Zeus was the chief pagan deity of the Greek pantheon. He was the god of the sky and thunder. He is father to many other deities of his pantheon, including Artemis.
Physical Appearance
Zeus appeared as a middle aged adult man. His attire was of formal and business appearance.
Personality
Like virtually all gods, Zeus was cruel and arrogant. He punished Prometheus for bringing fire to humanity by chaining him to a mountain and cursing him to die and have his liver eaten by an eagle every day. This shows that Zeus cares nothing for the well-being of humans, only wishing to rule the world. He believed that his actions were for the good of the god race. He blamed Prometheus for the gods' fall from grace and power and held an overwhelming hatred for him.
Zeus proved to be unyielding and unwilling to negotiate unless he had the upper hand. Zeus showed the ability to remain calm even when trapped and surrounded with at least three stakes that could kill him.
Zeus was also sadistic. He was going to kill Oliver, Prometheus' seven year old son, over and over again for all eternity and later stated that he was going to put the boy on the same mountain as his father just to make Prometheus suffer. He admitted that he enjoyed watching Prometheus die.
Powers and Abilities
As a deity, Zeus possessed several abilities common to his kind, however as the head god of his patheon, he was very powerful, more so than most pagan gods.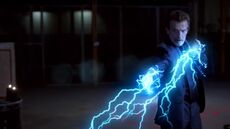 Electrokinesis - As the Greek god of the sky, he had the ability to generate lightning bolts. He used this offensively on multiple occasions, and to torture Prometheus
Cursing - He was able to curse Prometheus so that he would die every day, and then resurrect physically healed so the curse would continue. The Curse could also be inherited by Prometheus' offspring.
Weaknesses
A Wooden Stake- that specifically made from a tree struck by lightning, could kill him.
Divine Weaponry - The weaponry of Artemis could kill him.
Symbol of Infinity - The Symbol of Infinity could imprison Zeus, much like a Devil's Trap could for demons or holy oil for angels.
Season 8
After learning that Prometheus' son Oliver is cursed with the same immortality as his father, Sam and Dean summon Zeus into a trap in order to force him to break the curse or die as they know how to kill him. Zeus agrees to break the curse if they break the trap, but they refuse as they don't believe him. However, Hayley breaks the trap, desperate to save her son. Instead, Zeus stuns everyone and summons Artemis to deal with Sam and Dean while he makes up for lost time by killing Prometheus over and over again and doing the same to his son to make him feel pain. As he is about to kill Oliver, Artemis, who is secretly in love with Prometheus, intervenes and threatens Zeus with one of her arrows which can kill immortals. Zeus refuses to stop and Artemis, telling Zeus he is no longer her father, fires on him. However, Zeus pulls Prometheus in front of the arrow, mortally wounding him and he taunts his old enemy about how much he enjoys seeing him die. Prometheus takes the opportunity to shove the arrow through himself into Zeus, killing the god in a blast of electricty. After briefly mourning Prometheus' permanant death, Artemis disappears with Zeus' body and the curse on Oliver is broken.
Trivia
In the Mithology, Zeus is god of sky and thunder as well as the father of gods and men in Greek mythology. The son of the Titans Cronus and Rhea he lead the overthrow of his father to become the ruler of Mount Olympus. After the overthrow of the Titans, he shared the world with his brothers giving control of the seas to Poseidon and the underworld to Hades, while claiming dominion over the sky and air for himself.