White-eyed demons were a very powerful group of demons, known for being among the oldest and strongest demons in all of Hell together with Cain and the four Princes of Hell. They represented the highest demon authority in Hell, with Lilith being one of five demons, the other four being the Princes of Hell, having rightful claim to the throne.[1] They were of such strength that while they could not kill angels with their own power, they could overpower them with ease.[2] They instilled great panic in other demons as almost all other demons were terrified of them.
History
After Lucifer was corrupted by the Mark of Cain,[3] his hatred of humanity grew, leading him to torture Lilith until she was transformed into the first demon. Lilith then began to torture other deceased humans, turning them into demons as well. Lucifer and Lilith were banished deep into hell for their deeds. It is unknown how and when exactly Alastair was created who would later become the grand torturer of hell.[2] But it is known that Alastair was at least old enough that angels like Uriel knew him.  And he had had enough age and experience as he had knowledge of the Enochian sigils and Latin spells
White-Eyed demons played a key role in preparing Lucifer's release. Lilith's death was the final step in releasing Lucifer from his cage. Azazel sought out Lucifer, who told him Lilith knew how to break the seals and release him from the cage.[4] Azazel then spent decades working on freeing Lilith from hell. Dean eventually killed Azazel with the Colt.[5]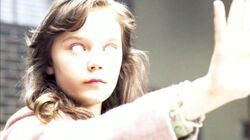 Alastair was given the task of convincing John Winchester to torture other souls in hell, which would have been the First Seal. However, John was too resilient and Alastair was unable to achieve his goal.[6] John later escaped from hell.[7] Lilith established herself as the new leader of hell. She viewed Sam Winchester as a potential rival, and therefore ordered his execution. Roughly one year after she escaped hell, Lilith met the Winchesters to take Dean's soul to Hell after he was killed by hellhounds. Afterwards, she tried to kill Sam as well by blasting him with a white light. They were both surprised when it had no effect on Sam. She was then forced to flee before Sam could stab her with the Demon Killing Knife.[8]
While Alastair tortured Dean in hell, with the intention of him taking his father's place as the First Seal, Sam sought revenge on Lilith. He became committed to killing her, not knowing that her death was the final seal. Sam was aided by Ruby, who was working for Lilith, unbeknownst to him. Lilith avoided Sam, knowing her powers could not affect him as he was Lucifer's vessel. Alastair eventually got Dean to agree to torture other souls in Hell, thus breaking the First Seal and allowing Lilith to break the others.[2][9]
Characteristics
White-eyed demons were terrifyingly powerful and they rank the highest in the hierarchy of Hell, just under Lucifer himself and the Princes of Hell, with the exception of Lilith, as she was Lucifer's first and ranked highest on Hell's hierarchy. They inspired fear in their subordinates as almost all demons were well aware of their power. To further consolidate their authority and keep younger demons in line, they told them stories about the Darkness.[10] White-Eyed demons were even capable of holding their own against regular angels.[2] So far, the only known demons of this type are Lilith and Alastair.[4]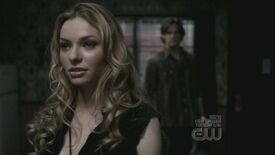 Both Lilith and Alastair were well known for their cruelty, torturing their enemies and victims before killing them.[8] Especially Alastair had an affinity for torture, he was basically the grand-torturer of hell, researching new ways to torture deceased humans and increase their pain. Alastair even preferred to reside in Hell, as it's more suited as a place to research on torture.[2] While Azazel set up and prepared everything for Lucifer's rise, it was mainly on Lilith to execute it by breaking the seals, however, she had not such a religious connection to Lucifer like Alastair. As Lilith learned that she would eventually die shortly before Lucifer's rise, she tried to make a deal with Sam, letting "Lucifer rot in his cage" in exchange for Sam's and Dean's lives.[11]
Physical Appearance
It is unknown how a white-eyed demon's true form looked like; however, as they walked the Earth, they manifested as a cloud of black smoke.[11] As they possessed human vessels, it came to no noticeable change besides that their eye color changed to white.[2][8] Shortly before Dean's soul was supposed to go to Hell, he was able to see Lilith's true face and describes it as horrible.[8]
Powers and Abilities
White-eyed Demons were some of the oldest demons and thus among the most powerful to appear in the series. Lilith, as well as Alastair, were rather unafraid as they faced regular angels, Castiel was unable to smite Alastair and could not withstand him. Despite their superiority against regular angels, they knew how tremendously powerful archangels are and preferred to flee when confronted by one of them since they wouldn't stand a chance against them.[6][11][12][13]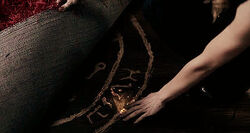 Spell Casting – As white-eyed demons were among the first demons in existence, they knew a wide variety of spells. Lilith used spells and rituals to break the 66 Seals, Alastair even knew an exorcism that worked on angels.[6]
Weaknesses
White-eyed Demons had very few true weaknesses and were immune to most of the standard demonic weaknesses.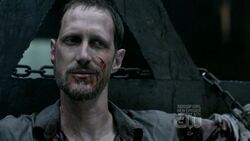 Harming, Misleading or Trapping
Banishing and Killing
Known White-eyed Demons
Lilith (deceased)
Alastair (deceased)
Other Two Unknown White-eyed Demons (mentioned only, non-canon)
Appearances
Trivia
Lilith was the first white-eyed demon introduced, sharing her eye color with Alastair. She was also the first female Big Bad.
Two more unknown white-eyed demons were mentioned in Bobby Singer's Guide to Hunting.
Both of the two known white-eyed demons, Alastair and Lilith were killed by Sam Winchester.
In real Judeo-Christian demon lore, it's more common for demons to manifest white eyes than black eyes when they reveal themselves from their host. According to lore, demons can't look upon the sacred, which then causes the possesser's eyes to roll back when any holy relics are present in front of a demon and reveals their true demonic nature. Unlike the average demon, High-rank demons are believed to possess black or glowing eyes instead of white eyes like in Supernatural.
Both known white-eyed demons, Lilith and Alastair, have very ambiguous pasts. While Lilith's origins can be traced back to the Garden of Eden, it is unknown when human Alastair existed and when he became a demon.
This class of demons has the least number of known members at two, compared to a total of four members of the Princes of Hell and three named Knights of Hell, excluding known but unseen Knights killed by Cain.
Both known white-eyed demons seem to have a preference for possessing blue-eyed humans. Out of seven on-screen hosts between the two demons, there was only one host who did not have blue eyes - Ruby's green-eyed blonde vessel, whom Lilith briefly possessed but notably did not herself choose as a host, having only possessed her in order to pose as Ruby.
References
Community content is available under
CC-BY-SA
unless otherwise noted.