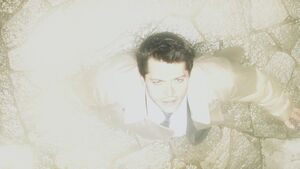 Vessels, or Meatsuits, are organisms who serve as the physical body or imbodiment of spiritual, non-physical beings.
Characteristics
Angels use vessels as a means to physically interact on Earth. Angels require a vessel to manifest safely outside of Heaven. The spiritual physiques of angels are too intense to behold and can be catastrophically damaging to most people, with the exception of the angels' own vessels.
Angels must have the permission of their host to indwell them. This is different from demons, who force themselves upon a host and do not need a particular vessel.
Angels have multiple people that can be vessels for them, but only one person is their "true" vessel. While in a lesser vessel, an Angel's abilities are limited when compared with their true vessel, and, as evidenced by Lucifer, may be damaging to the human. Archangels require their true vessel, otherwise they will burn out the body they are inhabiting.
Process
It is law that angels use vessels to interact within the physical world. But in order for this to happen, the angel must first gain consent of their would-be vessel, who must voluntarily agree to the transaction, and no angel can disobey it, and thus will only take a willing vessel and will not and can not force themselves into a human like demons, thanks to the laws of God. Even archangels aren't exempt from this. Because of that, and the fact that most humans cannot stand the sight of an angel's true form the angels have to find willing vessels. After finding a potential host, the angel will then communicate with the human through visions in order to explain themselves and ask for the human's consent to gain control of their body. Such as when Castiel contacted Jimmy Novak through his household electronics and showed him vision of what was to come. However, Lucifer tormented his vessel in order to get his consent through psychological hallucinations. Angels who have manifested within a vessel have superhuman abilities that easily surpass the power of a demon. It is unknown whether angels supress their hosts like demons, but Jimmy described having Castiel inside him like being "strapped to a comet". 
Archangels however are much more powerful than regular angels and as a result their presence in a human "hollows them out" leaving a vacant empty shell once they leave the human with recovery unknown.
Angels can leave the host whenever they want to or if they are called away by the higher ups, leaving the vessel with little or no memory of the time they were occupied. The process also doesn't kill the human either. Also, as angels do not need to eat, a vessel may find themselves extremely hungry after being freed from posession.
Vessels
Angelic Occupants
For Castiel:
Castiel's vessels are applicable through the Novak lineage.
Jimmy Novak - was chosen by Castiel to serve as a vessel.
For Michael:
All descendants of Cain and Abel are capable of successfully containing Michael without discomfort.
Dean Winchester - Metaphorically the Sword of Michael, he was preordained from the birth of humanity to host Michael.

John Winchester - was chosen by Michael to serve as an alternate vessel so that he could save Mary Winchester (to ensure Sam and Dean were born) and converse with Dean.
Adam Milligan - was chosen by Michael as an alternate vessel.
For Lucifer:
Through being related to Cain and Abel, although not a huge aspect. It's crucial to consume immense quantities of demon blood to host Lucifer without damage.
Sam Winchester - was preordained from the birth of humanity to host Lucifer.

Nick - was chosen by Lucifer to serve as his vessel until Sam agreed to let him in.
For Raphael:
Requirements to be a suitable vessel for Raphael isn't known, however he possess two different vessels over time.
Donnie Finnerman - was chosen by Raphael to serve as a vessel.
African-American Woman - Anonymous and of unclear origin, this woman assented, and got possessed by Raphael. She may be related to Donnie.

For Gabriel:
The requirements to host Gabriel is strictly unknown.
Gabriel's vessel - Nothing about this vessel is known but he had to give his assent to Gabriel, some millenia ago.
Demonic Meatsuits
Unlike angels, demons do not need permission to possess a human's body. They can also occupy corpses.
Meg Masters - It is not known what the demon's real name is but she occupies Meg and probably names herself after her. Even after Meg Masters dies, she retains her name as Meg.
Crowley - According to Crowley, his meatsuit is that of a moderately successful Literary Agent from New York. Not much else is known about this vessel.
Don Harding - A witch who was sacrificed by his sister Tracy Davis and became the vessel for the demon Samhain.
Cindy McKellan - This nurse was possessed by a demon who served as Lilith's "chef". After being captured by Sam and Ruby, the demon released control of Cindy as a means of taunting Sam. Despite his initial reluctance, Sam sacrificed Cindy in order to drink her demonic blood. [1]
Channing - Possessed to keep an eye out for Kevin Tran. After Kevin escapes, Crowley has the demon leave Channing and then kills her.
Linda Tran - Possessed by Crowley to get The Word of God tablet. After Dean nearly kills him, Crowley flees Linda who survives, but is at first catatonic. [2]
Others
For Eve
Eve's vessel - Not much is known about Eve's vessel, except that she was a young virgin who was kidnapped by Eve's dragons.

For Leviathan
Leviathan can possess any human body they come in contact with. They obtain the memories of their vessel and replace their blood with black goo. The Leviathan can transform its initial vessel into any other creature whose DNA it absorbs.
Castiel - Served as the initial vessel for all the Leviathan. When his body was destroyed, the Leviathan escaped into the water supply.
Annie - A little girl that was the vessel for the Leviathan that would later become Dr. Gaines.
Edgar - The human vessel chosen by Dick Roman's Second-In-Command. Retained throughout the rest of the season.
References