Jurassic World: Dominion Dominates Fandom Wikis - The Loop
Play Sound
"
Most vampire lore is crap. A cross won't repel them. Sunlight won't kill them and neither will a stake to the heart. But the bloodlust -- that part's true. They need fresh human blood to survive. They were once people, so you won't know it's a vampire until it's too late
"
Vampires, or Vamps for short, are a race of blood-drinking supernatural creatures that were once human. They have been encountered by the Winchesters, Gordon Walker and other hunters. However it has been stated encountering a vampire is very rare as hunters have hunted them near to extinction although due to their ability to reproduce by transfusion, meaning that there only needs to be one for them to repopulate.
All vampires originate from the Alpha Vampire. Vampires are also one of the most frequently recurring supernatural creatures in the series.
Apocalypse World has its version of vampires. They are more fierce and savage compared to the Main Universe.
Characteristics
They live forever, and several depicted vampires are hundreds of years of age or older. They also mate for life. Their diet is based strictly on blood. Although they prefer human blood, humans aren't the only animals that they can drink from (however one such vampire, Lenore, refers to cow blood as 'disgusting'). Vampires must keep their victims alive or else their blood becomes toxic to them. However, some vampires will live off of donated blood bags because they don't want to kill a living being. Vampires can only be killed by beheading, where they leave behind a corpse that can be examined to find their vampire teeth.
Vampires are typically organized into nests, with eight to ten vampires residing in each, with a mate for life. However, some nests are smaller, and some vampires prefer to live solitary lives. The younger members of the nest typically do the hunting for their elders, bringing back humans to be fed upon for days or even weeks. Each nest has a leader, typically the oldest vampire and most often the one who turned the others. According to Benny Lafitte, when vampires are first turned, they are reliant on their maker for blood and thus have no choice but to follow them, coming to see them as their source of life to the point they can think the leader is God. Sometimes the leader can come to believe it too. All vampires see the Alpha Vampire as their "father" and revere him as such.
According to Alton Morehead, while the vampires may hunt alone or in small nests, if you scratch the surface, they are connected all the way from the lowest drone to the Alpha Vampire. They also share amongst themselves things like intelligence and victims.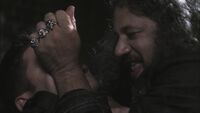 Vampirism is spread by the ingestion of vampire blood or by its direct introduction to the human blood stream. These are currently the only possible methods of infection (tactile contact with Eve is no longer possible since her death), since many hunters are seen getting splashed in the face with vampire blood without being turned. This means that the vampire blood doesn't enter a person's system through the eyes, nose or unbroken skin. It may also mean that, in terms of ingestion, a certain quantity is required to cause the transformation, considering getting splattered blood on the lips may result in some entering the mouth, becoming mixed with saliva, and winding up swallowed. These limitations are very beneficial to hunters due to the fact that killing a vampire is usually a gory and messy procedure. According to Dean Winchester, "the change, sometimes its fast, sometimes its slow, it just depends on the person."
Newly turned vampires are always confused and disoriented, especially while adjusting to the overwhelmingly sharp senses and sensitivity to light. Bloodlust usually sets in after, and drives the newly turned vampire into a killing spree. They then normally seek the one who changed them, known as their maker, and usually accept them as their leader. Most of the vampires shown in the series develop or are integrated into a nest or hive mentality. These newly turned vampires are still half-human until they drink their first blood.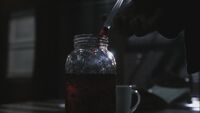 Vampirism is rarely curable, with the only known cure being a potion recorded in a journal by an ancestor of the Campbell Family of hunters. The ritual calls for the blood of the new vampire's sire, and will not work if the subject has fed on human blood. Other known ingredients include garlic and sage. The reversion is painful, but no secondary effects are retained. At least one cured vampire has retained all of his memories before he was reverted to humanity. However, the cure causes you to be sick for a few days. The cure does not require the vampire that turned the person to be alive for it to work.
This technique was used to cure Dean Winchester, Seth's Victim, Annie Jones and Doug Stover.
Using the vampire resurrection ritual, a dead vampire could be resurrected. However, the person resurrecting the vampire had to get the vampire's soul from Purgatory and have access to their body. The ritual is then simple: drip the blood with the soul over the vampire's body and recite a spell. The vampire is then resurrected whole and undamaged.
Appearance
A vampire's appearance is that of a normal human, which makes sense given that they were originally mortals. However, they all have common features, such as sharp, pointed, retractable teeth that emerge from their gums and extend beyond their human teeth. This set of fangs descend at the vampire's will, usually when about to feed, when threatened or when attacking. Some vampires have been shown to have sharp fingernails, but nowhere near as long as the Alpha's, which are more clawlike and can be made to extend at will.
Powers and Abilities
The blood of the Alpha Vampire in their veins gives vampires many unique abilities.
Super Strength - Vampires possess strength that is greater than humans. Young vampires experience a formidable increase in physical strength; able to lift heavy objects and overpower grown humans. Older vampires, however, can overpower their own makers and other creatures. Boris, a 600-year-old vampire demonstrated his superior strength over Dean, who was at that time a new vampire who had yet to complete the transition, by easily overpowering him. One 3 year old vampire could put a teenager on the top of a flag pole. 
Fangs - Vampires possess a set of retractable fangs. Their teeth are superhumanly strong and can rip open a human's neck and leave huge bite marks on the corpse of the victim it has fed on.
Super Speed - Vampires can move at greater speeds than humans. It is possible that a vampire's speed, like their strength, increase with age.
Super Agility - Vampires possess amazing agility. They can climb up walls and jump off buildings without hurting themselves. Vampires also have greater reflexes than humans. Robert was able to catch Kristen's cellphone after bumping into her. One could presumably climb a flag pole while carrying a teenager.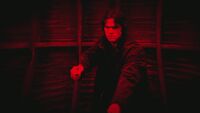 Super Senses - Vampires have extremely keen senses that are superior to those of humans. They can see in the dark, hear a human's heart beat, and possess enhanced sense of smell. A vampire can track a human's blood over long distances. John Winchester once warned Sam and Dean that, "Once a vampire has your scent, it's for life." Like their strength, their senses seem to increase with age, as Luther was able to smell Kate from a distance, while none of the younger vampires could.
Immortality - Vampires can potentially live forever. They can't grow old and don't acquire conventional diseases that affect humans.
Invulnerability - Vampires can not be killed by conventional methods, such as stab wounds or gunshots. Vampires have an extreme resilience to pain. Kate was shot in the stomach with an arrow and merely sighed in annoyance. However, they still react to punches and kicks in a similar manner to humans.
Regeneration - As long as they have enough human blood, vampires can quickly heal any wound that does not include amputation.
Super Stamina - Despite their hunger, vampires don't tire easily. Dean, who was at that time a new vampire who had yet to complete the transition, took on an entire nest of over twenty other vampires, in a fight to the death, and emerged almost unfazed.
Stealth - Vampires are often shown sneaking up on their victims- even experienced vampire hunters- without making a sound. As a newly turned and initially reluctant vampire, Gordon was able to twice appear behind humans seemingly out of nowhere.
Weaknesses
As with other supernatural creatures, vampires have weaknesses that hunters can exploit to defeat them.
Harming and Banishing
Dead man's blood - The use of blood from the recently deceased can also be used as a method to incapacitate vampires briefly. Michael's enhanced vampires are immune to dead man's blood.
Sunlight - While sunlight can hurt them, John Winchester likened it to a really bad sunburn; rather than being lethal it only causes pain to vampires. For this reason, vampires are primarily nocturnal, and will not go out while the sun is still on the horizon. They can also find other types of light uncomfortable, as vampires have increased sensitivity to light. Michael's enhanced vampires seems to be undisturbed from sunlight, as they walked in it without being deterred.
Scent-blocking Mixture - A mixture of saffron, skunk cabbage, and trillium into a fire or dusting one's clothes with the ashes of this mixture will cover a human's scent to attack vampires. This will even cover another vampire's scent. However older vampires with their stronger senses, may be able to overcome this.
Serious Physical Injury - While vampires can't be killed by serious physical injury and can heal, they are still susceptible to harmful injuries. After a fight with a group of vampirates, Benny Lafitte was left unable to walk and needed Dean Winchester to bring him blood so that he could heal. Even then, Benny indicated that it would take some time for him to fully recover from his injuries even after drinking blood. He also commented that vampires cannot regrow amputated body parts. When Donna Hanscum kneecapped Marlon, he reacted in the same way any human would and feared the further harm Donna would cause him enough to cooperate. Later, it was shown that while they can survive a headshot (so long as it doesn't actually blow their head off), it still incapacitates them for a while.
Killing
Weapons, Rituals and Substances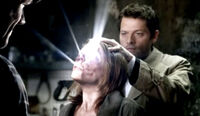 The Colt - As it can kill almost anything, it can be used against all vampires including their alpha.
Vamptonite - Human blood with DNA altered by Leviathan corn syrup: This altered blood kills them quickly as though they have ingested a powerful acid.
Decapitation - Beheading is the most commonly used method to kill vampires, considered the only method for a long time. The head does not necessarily need to be removed; doing sufficient damage seems just as effective a method of killing, if somewhat more elaborate. Garth was able to kill Maul by swinging a machete down through the top of his head, cutting through his brain but not cutting his head completely off.
Vampire Irradiation Gun - The British Men of Letters at some point invented this weapon through a combination of technology and magic that irradiates vampires and reorders their DNA, turning their own blood toxic and killing them.
Anti-Vampire Device - The British Men of Letters at some point invented this weapon through a combination of technology and magic that releases a gas that is poisonous to vampires.
Beings
History
Early History
Vampires were created by Eve and were some of her very first children. The Alpha Vampire was the very first vampire and he appears to have a psychic connection with other vampires. By the year 2006, vampires had been hunted so intensively and become so rare that John Winchester had thought they were extinct. However, they have started to make something of a resurgence, particularly in 2011 after the Alpha Vampire ordered the existing nests to increase their numbers on Eve's orders.
Seasons
Known Vampires
Appearances
Lore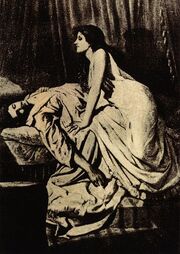 According to most lore, vampires subsist by feeding on the life essence (generally in the form of blood) of living creatures, regardless of whether they are undead or a living person. Although vampiric entities have been recorded in many cultures, the term "vampire" was not popularized until the early 18th century, after an influx of vampire superstition into Western Europe from areas where vampire legends were frequent, such as the Balkans and Eastern Europe. This increased level of vampire superstition in Europe led to mass hysteria and in some cases resulted in corpses actually being staked and people being accused of vampirism. Local variants of vampires were also known by different names, such as vrykolakas in Greece and strigoi in Romania.
The Vampires in Supernatural resemble original vampire folklore, such as unable to be repelled by a cross, not supernaturally beautiful, can't be killed by sunlight, and can't be killed by a wooden stake to the heart, but could only be destroyed by beheading or by burning them to death. However, original vampire folklore also have vampires being repelled by garlic, iron, and can not cross a line of seeds, salt, and running water. Vampires appeared differently in folklore than just ordinary people with retractable teeth. Folklore vampires have ruddy or dark skin, bloated body, blood seeping through the mouth, long nails and grown hair, red glowing eyes, supernaturally strong teeth, and a smell of decay. According to folklore, Vampires traditionally slept in their graves and hunted at night, they would first feed on the blood of their whole family and once it had killed them all, the vampire start to feed on other people in its community and spreads its curse to others and turn them into vampires as well. Folklore vampires were said to possess the power of shape shifting into many different shapes, including animals and even mist, spread diseases (which killed the victim and turned them into a vampire), great strength and agility (but only strong enough to overpower victims), and were said to be sexually insatiable.
Trivia
Along with demons and ghosts, vampires are amongst the most recurring antagonists, and are the most recurring monsters in the series.
Vampires have appeared in every season but Season 4 so far. In Season 4, a shapeshifter disguised itself primarily as the movie vampire Dracula however. Also, the Season 5 appearance was just a quick cameo at the beginning of Free To Be You and Me where Dean hunted a vampire and killed it on the hood of the Impala.
Season 8 is the season with the most vampire appearances in it, due primarily to the recurring character of Benny Lafitte who was a vampire though multiple other vampires appeared throughout the season as well.
Charlie Bradbury killed a teenage vampire on one of her hunts. This may have been a reference to the fact that Felica Day, the actress that played Charlie played a Vampire Slayer on Buffy the Vampire Slayer.
Dean Winchester has proven to be a skilled vampire hunter whenever the Winchesters encounter the species, once killing five vampires single-handedly out of a nest of ten, three of the others having been killed before the hunt during Blood Brother. While briefly a vampire himself, Dean single-handedly slaughtered a massive nest, including a powerful vampire who had easily overpowered him only minutes before. While Sam has killed a number of vampires himself, he doesn't seem to be as skilled at it as Dean.
Vampires tend to be predictable about where they nest: they can usually be found in an abandoned building such as a warehouse or condemned house. Once a hunter knows where to start looking, they usually find the nest easily by searching abandoned buildings in the area. In Alex Annie Alexis Ann, Sam and Dean found Celia's nest through a bus ticket and a search of the abandoned buildings in the town the ticket pointed to.
In Dead Man's Blood, John Winchester somehow tracked Luther's nest's location after looking at one of their crime scenes and finding one of the vampire's teeth, somehow finding a trail there. However, how he did this is unknown as he refused to tell Sam and Dean feeling it to be "need to know", something that pissed Sam off.
Before 2006, most hunters such as John Winchester believed vampires to be extinct to the point that John didn't even mention them to his sons. This was because there were hunters such as Gordon Walker and Daniel Elkins who were dedicated to wiping out the species. However, in recent years, there seems to have been a resurgence of the species given how much Sam and Dean encounter them.
In Season One, vampire eyes gave off a shine like animals that are nocturnal, but this was no longer used in other seasons of Supernatural.
Vampires in the anime vary from the main series. They are similar to rugaru, being capable of reproduction, and their young appear human until "Awakening" (although unlike rugaru, a vampire's metamorphasis is triggered by rage rather than consumption of human flesh). In their "vampire form," their eyes were shadowed, and they developed bulging veins on their faces. While vampires in the anime are still immune to sunlight and must be decapitated in order to be killed, they can be weakened with silver, although it is implied Dead Man's Blood will still hurt them. It is also suggested that the practice of living exclusively off animal blood to avoid detection is a more widespread practice amongst vampires than in the TV series. 
Ironically, Dean Winchester and Gordon Walker, both vampire hunters with Gordon being obsessed with it, were both turned into vampires themselves. Gordon was killed while Dean was cured however.
Vampires are one of only five types of enemy in the show that can be cured, the others being demons, Nachzehrers, Werewolves, and Rabids. With vampires, however, there is a time limit on when a vampire can be cured due to the requirement that the vampire not drink blood and the intense bloodlust they feel.
Despite Supernatural frequently dropping references to Buffy the Vampire Slayer, the vampire lore that John Winchester labelled "crap" were all effective methods in repelling or destroying vampires in the latter.
Three vampires have been victims of the Colt on-screen: Luther, Gordon's Victim and the Alpha Vampire. It was also the death of Luther that proved the legend of the Colt true to the Winchesters. Vampires are also the only type of monster killed on-screen by the Colt aside from a Phoenix.
Sheriff Donna Hanscum is implied to specialize in hunting vampires in Wayward Sisters. Jody Mills introduces Donna to Kaia Nieves and Patience Turner by telling them that Donna has "killed a lot of vampires" with Donna replying that "I do what I do." However, she was unaware of the vampire cure.
Despite it being stated in their first appearance that they need human blood to survive, it was later discovered that they can survive on animals blood.
The formation of vampire fangs was drastically altered throughout the show. Mainly, there can be seen a great variety in the particular number of fangs vampires have - sometimes, it changes even within the same season.
Vampires are the last monsters to appear on the series.