About Moi
Hello, EmpyreanSmoke here! I am a huge fan of Supernatural, and even consider myself to be the biggest fan (which many people do). My main priority is to make sure this wikia is as awesome as the show is. Because I love the show, I love editing this Wiki to the highest standard, making sure it has accurate information, and an attractive appearance. I first saw Supernatural around 3 years ago, and ever since then I can't get enough of it. A huge thankyou to all the members of this wiki, for editing it to where it is today. I check this wiki on a daily basis, so if you have any questions, or would just like to talk, please leave a message on my talk page, and I'll get to it as soon as I can.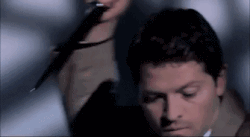 Pages I've Made
My Favorites
Favorite Angels
Favorite Demons
Favorite Monsters
Favorite Powers
Ranking Scales
Angel Classes
Archangels > Grigori > Rit Zien > Seraphim > Reapers > Cherubim
Demon classes
Knights of Hell > White eyed > Yellow eyed > Red eyed > Black eyed
Community content is available under
CC-BY-SA
unless otherwise noted.