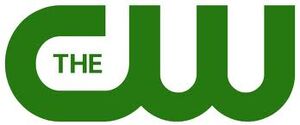 The CW is the TV network that Supernatural airs on. The CW lineup has featured on a mixture of programming that originated on both UPN and The WB along with its own original programs, mostly targeted towards women and young adults.
SupernaturalEdit
The season two of Supernatural aired Thursdays, 9:00 pm ET at The CW, and was the first season to air on the CW television network, a joint venture of The WB and UPN. The first season of the show was broadcast on The WB. It averaged only about 3.14 million American viewers, and was in danger of not being renewed. The cast and crew garnered many award nominations, but the episodes received mixed reviews from critics. While both the brotherly chemistry between the lead actors and the decision to finish the main storyline were praised, the formulaic structure of the episodes was criticized. The series was renewed for a third and fourth season.
The fifth season began airing on September 10, 2009, and concluded the series' main storyline; however, The CW officially renewed the show for a sixth season on February 16, 2010. On April 26, 2011, the show was renewed for a seventh season for the 2011–2012 season, which began on September 23, 2011. On May 3, 2012, Supernatural was renewed for an eighth season by the CW. Season 9 was announced on February 11, 2013, Season 10 on February 12th, 2014. Season 10 was rumored to be the end of the show as the actors' contracts were only up to Season 10. Putting such rumors to rest, Season 11 was confirmed on January 11, 2015.
Schedule 2012-2013
Edit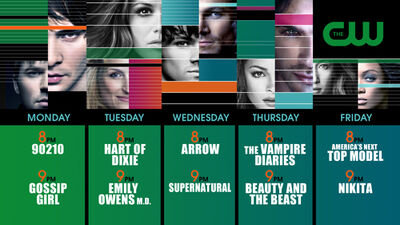 External Links
Edit
Community content is available under
CC-BY-SA
unless otherwise noted.