Welcome to the Supernatural Wiki!
We are a free repository about SUPERNATURAL, a television series created by Eric Kripke, and its official spin-off, THE WINCHESTERS. We are currently editing over 4,950 articles, and you can help!
Latest episode — Carry On
---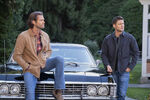 After 15 seasons, the longest running sci fi series in the US has come to an end. Baby, it's the final ride for saving people and hunting things.
---
The epic journey of the Winchester brothers come to a close as Supernatural enters its final season. Sam and Dean have battled demons and angels, mythical creatures and monsters, in a seemingly unending quest to save the world. But in the final battle of the show's 14th season, they face off against God Himself, refusing to kill their surrogate nephilim son Jack, and thus bringing about God's decision to end this reality once and for all.
Featured article — Michael
---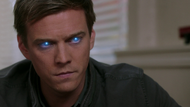 Michael is the first and oldest of the four Archangels created by God, making him the very first angel ever created, as well as one of the oldest and most powerful beings in the universe. During the War In Heaven in the distant past, Michael banished Lucifer from Heaven on God's command, later restricting him to a Cage bound by 66 Seals.

Read more..
Supernatural Wiki
We're an encyclopedia run and maintained by people just like you! Created by fans, for fans, this community is dedicated to building a comprehensive and informative guide to the cult classic series Supernatural, and its spin-off The Winchesters.

Want to share your knowledge? Sign up for a free account and start editing today!