Welcome to Supernatural Wikia!
Featured Article
"
I'm not just powerful now. I am power. And I don't need a blade to end you, pal. Bye, bye, Dean.
"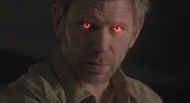 Lucifer, also known as The Devil, Light Bringer, The Morning Star, and Satan, was the second of the four Archangels created by God and was his favorite son. He is also a fallen archangel, and the first fallen angel. He is the original ruler of Hell and the creator of demons, seen by them as a father figure and their god. As the second-born Archangel, he is the younger brother of Michael, and older brother of Raphael and Gabriel.
Read more...
Twitter
Polls
How do you feel about Chuck after the season finale?
Who was the MVP of this season?
Do you think that we, the audience, is actually Chuck?