Welcome to Supernatural Wikia!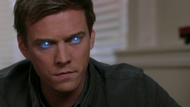 Michael is the first and oldest of the four Archangels created by God, making him the very first angel ever created, as well as one of the oldest and most powerful beings in the universe. During the War In Heaven in the distant past, Michael banished Lucifer from Heaven on God's command, later restricting him to a Cage bound by 66 Seals.
Read more...
Are you excited for the final season?
Which deceased character you would like to see the most this season?
What kind of an ending you are rooting for?
Community content is available under
CC-BY-SA
unless otherwise noted.