Welcome to Supernatural Wikia!
"
I'm not just powerful now. I am power. And I don't need a blade to end you, pal. Bye, bye, Dean.
"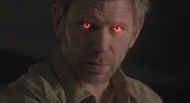 Lucifer, also known as The Devil, Light Bringer, The Morning Star, and Satan, was the second of the four Archangels created by God and was his favorite son. He is also a fallen archangel, and the first fallen angel. He is the original ruler of Hell and the creator of demons, seen by them as a father figure and their god. As the second-born Archangel, he is the younger brother of Michael, and older brother of Raphael and Gabriel.
Read more...
How was the season finale?
Which character's death was the saddest?
What is your wish for Season 14?