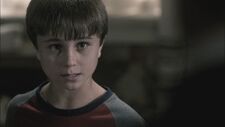 Supernatural Concealment is the power to hide oneself from anything, including angels, demons, etc. This can also be used to shield themselves (or their true forms) from creatures with Supernatural Perception (i.e., Edgar was able to mask his presence to take two angels by surprise).
Characters with this ability
Edit
Angelic Beings
Higher Beings
Hybrids

Nephilim

Jack - When he decided he does not want to be found, Jack was subsconsciously able to block out the attempts of Lucifer, Asmodeus' and the Angel's to find him.

Cambion

Jesse Turner - According to Castiel, Jesse is hidden from angels, demons and humans unless he wants to be found.

Deities
Demons

Ruby - Using her knowledge of witchcraft, she produced hex bags capable of concealing herself and the Winchesters from angels and demons.

Humans
References
Edit
Community content is available under
CC-BY-SA
unless otherwise noted.