Wayward Sisters: Everything We Know So Far.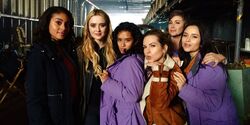 Supernatural: Wayward Sisters was an attempted spin-off for The CW's Supernatural. The backdoor pilot is titled Wayward Sisters and it was the tenth episode of the thirteenth season. It aired on January 18, 2018.[1]
It was to be written by Andrew Dabb and Robert Berens and produced by Phil Sgriccia and Robert Singer.
On May 11, 2018, writer, Robert Berens announced that Wayward Sisters was not picked up for a series order.[2]
Writer, Andrew Dabb also took to social media to express his disappointment of the decision. "It breaks my heart to say this, but CW has chosen to pass on Wayward Sisters. We love these characters, and have spent almost two years trying to make this show a reality on the network... but there are some fights, sometimes, you can't win. I want to thank everyone involved in this entire process, from our fantastic crew, to our amazing cast, and, most of all you. Your passion for this idea fueled us, and we wanted so much to make this happen for you. I'm so sorry we couldn't. But know that these characters will live on. We owe them, and you, and us that. Thank you." [3]
On May 14, 2018, a Twitter account by the name of Wayward Daughters announced their plans to save Wayward Sisters by flooding The CW page, Netflix page, and any other related pages with messages, posts, tweets, etc. on all social media platforms on May 17, 2018 corresponding with the season 13 finale of Supernatural. This was in hopes of forcing The CW to reconsider its decision and, if not, convince Netflix to pick it up.
However, CW president Mark Pedowitz defended his decision by stating "We had really great material this year. We're really excited about the five series we did pick up. We are big fans of the characters and the women who played the characters in the series, but we did not feel creatively the show is where we wanted it to be. We felt we had a better shot with Legacies." Pedowitz continued to say that CW execs are "big fans" of the Wayward actresses "and hope they continue on guest starring on Supernatural.[4]
Andrew Dabb later stated that all of the characters would return in the fourteenth season. "All of the characters are going to make their return one way or the other. We found a way to fold [them] organically into the plot line, and some of the hanging chads from the pilot last year ended up dovetailing nicely with some of the stuff Michael's looking to do, and some of the stuff that's going on in our world just generally. It all folds together pretty well, but they'll definitely be in multiple episodes this season." Despite his statement, only three out of the six characters returned for the fourteenth season.[5]
Summary
It tells the story of Sheriff Jody Mills (Kim Rhodes), Sheriff Donna Hanscum (Briana Buckmaster) and a group of troubled young women, all of them orphaned by supernatural tragedy. Under Mills' training and protection, the women will emerge as a supreme monster-fighting force. Unlike the original series, which centers on biological brothers, Wayward Sisters is about a sisterhood of girls in a foster family.[6]
Characters
Main Cast
Trivia
This is Andrew Dabb's second unsuccessful attempt to launch a Supernatural spin-off on the The CW with Bloodlines being the first one.
Prior to its announcement, fans and female cast members had pitched for a spin-off centered around Jody Mills, Claire Novak, and Alex Jones titled Wayward Daughters.
The title is derived from a lyric from the Kansas song "Carry on Wayward Son".
References
Community content is available under
CC-BY-SA
unless otherwise noted.