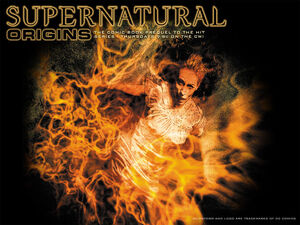 Supernatural: Origins is a prequel comic book to the TV series Supernatural. The first arc in the Supernatural comic books look primarily at John Winchester and his search for the truth about Mary's death.
The story is told from a variety of viewpoints, encompassing a range of characters we are already familiar such as Missouri Moseley, Ellen Harvelle, and a young Sam and Dean Winchester.
John Winchester discovers his dead wife, and takes his children, Sam and Dean, with him. He meets a psychic, Missouri Moseley, who shows up in the Season 1 episode Home. She investigates his home, and tells John he will have to sacrifice a part of himself to learn more: she rips his fingernail off with pliers. Eventually, he finds a hellhound, who is the pet to the demon that killed his wife. He encounters an expert "Hunter", who will train him, and in a subsequent scuffle, his brother-in-law is murdered.
Publication history
Edit
Supernatural: Origins was first announced in an interview with TV Guide.
The comic is written by series producer Peter Johnson and drawn by Matthew Dow Smith, although the first issue features a backup story by famed DC Comics writer Geoff Johns, with art by Phil Hester. The limited series focuses on John's adventures, as the father, although young Dean and Sam are also on issues, at varying ages.
Geoff Johns' backup story from issue 1 appeared as a preview on CW's website.
Issue #1 was published on May 2, 2007. Covers are drawn by different artists, including Tim Sale.
By December 2007, six issues had been published.
A "Director's Cut" trade paperback will be published in the spring with changes Johnson decided to make after an online interview with the fans.
Supernatural: Origins #2
Supernatural: Origins #3
Supernatural: Origins #4
Supernatural: Origins #5
Supernatural: Origins #6
Characters
Edit
The title is written by comics writer Peter Johnson (who has previously produced material with Marvel comics), who is also a producer on Supernatural.
The title is published under DC's Wildstorm imprint.
The trade paperback was released in April 2008.
Community content is available under
CC-BY-SA
unless otherwise noted.