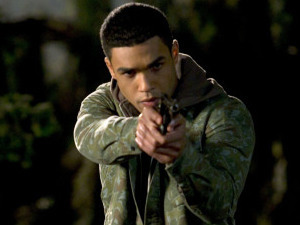 Supernatural: Bloodlines was to be a Supernatural spin-off series. The backdoor pilot—which aired as the twentieth episode of Season 9 - explored the different hunter and monster cultures in Chicago, and how the two come into conflict with each other.
The show's title was revealed on January 29, 2014.[1]
The series was to be directed by Robert Singer and penned by Andrew Dabb. Both were planning to co-executive produce the series alongside McG and Jeremy Carver. Eric Kripke was set to return to co-executive produce as well.[2]
It was previously titled Supernatural: Tribes.
On May 8, 2014, The CW announced that Bloodlines was not picked up for a series order. The network is reportedly leaving open the possibility of spinning off Supernatural in another concept down the line.[3]
Another spin-off was attempted in 2017, titled Supernatural: Wayward Sisters. At that time Andrew Dabb spoke on why he believes Bloodlines ultimately didn't work. "I think the biggest problem for us was, number one, timing. Our idea in hindsight was probably a little too similar to The Originals. We wanted to do something set in the Supernatural world but very unlike Supernatural. At that point, Supernatural [was] going strong. We didn't know when it was ending but it certainly didn't feel like it was on its way out and so we were really worried about taking any elements from the show." [4]
Premise
[
]
"It's an entirely different cast of characters. And unlike Supernatural - which is a road show - this will take place in one place (Chicago) with a wider cast of characters. (It will) explore the clashing monster and human characters living in the city. We'll have main characters who are both human and monsters. That will include, families of monsters and families of hunters. It's much more of an ensemble than Supernatural.
Characters
[
]
References
[
]