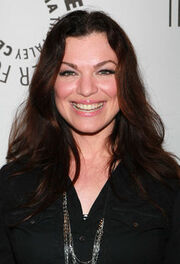 "
I had never experienced writing that subject matter in such an irreverent way before. Something I learned from Eric Kripke is you can make something emotionally true and keep the stakes really high and serious, but at the same time, you can make jokes about your pie hole. Now, I don't ever want to see a faux Shakespeare version of the apocalypse, [I want to see] people cursing at each other in the car, who want to pull over because In-n-Out is the best burger. Kripke brought a lived-in comedy to this story. I think it's obvious that it had a big influence on The Magicians. Supernatural is where I learned that.
"

— Sera Gamble on writing for Supernatural

[1]
Sera Gamble was a writer and executive story editor for Supernatural. Beginning with season three, she also became a producer with a promotion to supervising in season four and executive producer in season five. In season six and seven, she took over as showrunner following Kripke's departure. At the end of season seven, Gamble decided to leave Supernatural to focus on new projects, and left the seat of showrunner to Jeremy Carver.
"
I suppose the apocalypse storyline is rather Judeo-Christian, but we have been telling monster stories from all over the world for the last four seasons. We're clear that we're not a religious show, and we're not trying to tell religious stories per se. We're just cherry-picking the good bits of one of the most terrifying stories of all time..
"
"
We've been careful to leave room for agnosticism when we talk about God. There's no direct line to answers about his existence— at least not in the first four seasons. And in my mind, there's been lots of room for atheists to stay on board. First of all, no one's trying to convince anyone of anything; we're just here to entertain you. Second— even some of the angels doubt God's around, so join the club.

I think at the end of the day, we're trying to tell a story about humanism. We come out suspicious of organized anything. We're for individuals with balls and a strong moral center telling bureaucrats from heaven and hell to fuck off. That's where the fun is.

"

— Sera Gamble
"
There is an over-arching storyline. Eric, Bob and I, and also Ben Edlund started talking about Season 6, very early in Season 5, and we talked about how to lay all the ideas in that we had. Season 5 is the apocalypse, so Season 6 deals with the post-apocalypse. We were very aware that we had gone as big and epic as we could go, so we didn't want to just slot in another big bad. We didn't want to deal with a new story in that way because it would feel like a cheat. I don't think you can go bigger than Lucifer and excite people.
"

— Sera Gamble on Season 6
References
Edit
External links
Edit
Community content is available under
CC-BY-SA
unless otherwise noted.