Wiki Targeted (Entertainment)
Play Sound
"
When you've done this job as long as I have, a giant from the future with some magic brick doesn't exactly give you the vapours.
"
Samuel Colt was a hunter who lived during the nineteenth century. He created the Colt along with the Devil's gate in Wyoming and the devil's trap guarding it. He is a legendary idol of later hunters, who considered him the greatest hunter of all time.
"
Back in 1835, when Halley's Comet was overhead, same night those men died at the Alamo, they say Samuel Colt made a gun. A special gun. He made it for a hunter. A man like us, only on horseback. Story goes, he made thirteen bullets. This hunter used the gun a half dozen times before he disappeared, the gun along with him... Till somehow Daniel got his hands on it. They say... they say this gun can kill anything.
"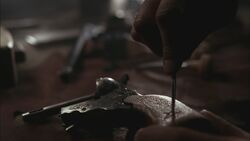 Samuel created the Colt amidst the last stand of the Alamo and the passage of Halley's Comet. The gun was imbued with the power to kill most supernatural beings,[1] and was also the only key to Samuel's later invention: the Devil's Gate.[2]
Samuel also built five frontier churches in Wyoming around the devil's gate and used iron railroad tracks to connect them, forming an enormous Devil's trap around the cemetery and crypt of the Devil's gate; thus, no demon could pass into the trap to open the gateway.
Samuel's name lived on in the world of hunters, who regarded him as a legendary figure—something which evidently amused him when he learned about it from a time-travelling Sam Winchester.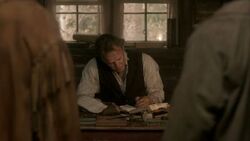 In Frontierland, Samuel Colt retired from active hunting due to his increasing age and weariness; nevertheless, he built the Wyoming devil's gate by early March 1861. He was drinking whiskey when two demonically-possessed men hunted him down to force him into opening the devil's gate or be killed. When they refused to leave him alone, he shot them dead, then lamented his broken bottle of whiskey.
With the help of the angel Castiel, Sam and Dean Winchester went back to Samuel's time to kill a phoenix (Samuel's journal claimed that he had killed one at the time) and retrieve its ash in order to kill Eve in their time. When Sam arrived at Samuel's house, Samuel initially suspected he was possessed, but Sam claimed he was a fellow hunter who had come from the future and proved it to a skeptical Samuel by talking about demons and showing him his cell phone. Samuel quickly accepted his explanation, saying that he wasn't surprised by much anymore; however, he was taken aback by the apparent existence of phoenixes and being confronted with a future version of his own journal.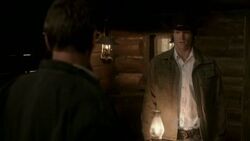 Samuel refused to help Sam hunt the phoenix and was reluctant to even lend him the Colt, which he believed was a curse; however, he eventually conceded to giving him the gun. The Winchesters killed the phoenix, but Castiel was forced to return them to their proper time before they can collect the ashes, or else risk them being trapped in the Old West. Off-screen, Samuel collected the ashes himself, then used Sam's cell phone (which he had kept) to package them with information on when and where to send it to; in the future, the Winchesters received the package and used the ash to kill Eve.[3]
Colt was a remarkably knowledgeable and intelligent Hunter, having created the only known weapon capable of killing not just demons, but almost all manner of supernatural beings. This weapon became legendary among Hunters, known as the gun that "can kill anything". He also built a Devil's Gate, which he later surrounded by a railroad in the form of a Devil's Trap, to prevent any demons from getting in or out. Although his fighting abilities are never revealed, they are clearly extraordinary to the point that even to the modern day, many Hunters still look up to Colt's skills and considered him the greatest Hunter ever.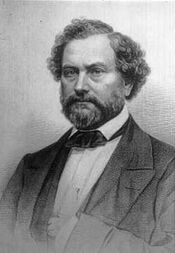 The character was based on the historical gun maker of the same name.
Supernatural creator, Eric Kripke, occasionally discussed a spin-off series centered on Samuel's adventures during the Wild West;[4] presumably, Frontierland is an homage to this concept.
He's one of the only seven characters to be based on real people, the others being H.P. Lovecraft,  Eliot Ness, H.H. Holmes, John Wayne Gacy, and Kate and Margaret Fox.
Samuel shared his first name with Sam Winchester and Samuel Campbell.
It is unknown how Samuel got involved in hunting, but he claimed to have given up his whole life to it.
In a deleted scene from Frontierland, Samuel is revealed to have owned the Demon-Killing Knife at one point.
Samuel appeared to use his left hand a lot, hinting that it was his dominant hand, which is unusual for people of that time. Left-handed people were often trained to use their right-hand instead.
Community content is available under
CC-BY-SA
unless otherwise noted.