The Sandman Will Keep You Awake - The Loop
Play Sound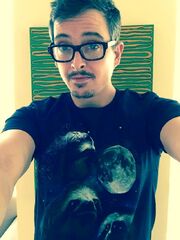 "
I think every season has posed shifts to the writing of the show, depending on what the larger story we're telling is. For me, the bigger change has been in writing more episodes and being tasked with writing more "myth" stories and fewer standalones.
"

— Robert Berens
Robert Berens joined Supernatural in Season 9 as a writer and story editor. In Season 12, Berens became a supervising producer and later co-executive producer in Season 13. Berens also co-wrote the song "Bloody Messiah" alongside series composer Jay Gruska in "Rock Never Dies".
He has also written for the TV series Ringer.
By actors and fans, Robert is commonly referred to as either Bobo Berens or simply Bobo.
"
You're nuts, and I love you. Seriously, I don't think you can make any statement about a fandom as big and boisterous as the SPNFamily without instantly contradicting yourself. The fandom is incredibly kind and generous and does so much as a collective to support one another. And at the same time, there are some serious divisions within the fandom you can't help noticing—and sometimes things get ugly. Overwhelmingly, the impression is very positive, especially when you get a chance to meet with and interact with members of the fandom in real life. Online the fandom is wonderful, but it can occasionally feel like this churning monolith when you experience it through that single filter. Then you encounter individuals from the fandom at the cons or meetups, and you're always astonished to be reminded that this massive fandom consists of a lot of really stellar, fascinating individuals with varied skills and interests– their passion for Supernatural isn't the only thing about them. I try to go to at least one con a year, 'cause it takes me out of the fog of work and puts me back in touch with how much this show matters to the fandom, and how profoundly lucky I am to get to write for it.
"

— Robert Berens on the Supernatural fandom

[1]
Writer
[
]
References
[
]
External links
[
]