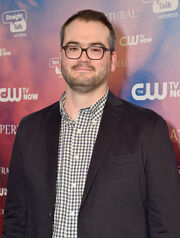 "
When I joined the show and watched the first six seasons I was shocked at how emotional the story was and how I related it to emotionally. I'm a big nerd. I came for the monsters, but I stayed for the drama. So it's certainly a challenge to come up with a new take on a monster, but with these two characters as portrayed by these two actors it's an endless well to draw from.
"

— Robbie Thompson
Robbie Thompson joined Supernatural in Season 7 as a writer and story editor. Beginning with Season 8, he became a producer on the series, followed by a promotion to co-executive producer in Season 10. Robbie wrote the show's 200th episode Fan Fiction, including the lyrics for the songs. He has also written episodes of The Cape, Human Target, and Jericho. After Season 11, Thompson departed Supernatural for new projects.
"
I think the first thing is to do the homework — watch the show, read the comics. Know the show, the characters, the world. In the case of Supernatural, I watched every episode of the show before starting on staff (and have re-watched as the years have gone on), but I also read a bunch of scripts for the episodes that I loved, to try to figure out how and why they worked and learn the voice of the show on the page.
"

— Robbie Thompson on writing comics and Supernatural

[1]
Community content is available under
CC-BY-SA
unless otherwise noted.