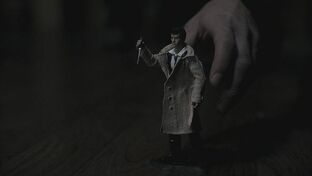 Reality Warping is the power to make things and beings appear differently than how they are, by literally changing reality, or even constructing a new aspect.
It can be extremely powerful if used properly.
It can also be accomplished by certain objects, like the Tiamat Coin or Rabbit's Foot.
Characters and Objects with this ability
Others
STATUS of power: Currently a bit of an amateur due to his young age and lack of practice, he even was unaware he had abilities.
By a comment made by Sam in Plucky Pennywhistle's Magical Menagerie (store), clearly, Angels have some reality warping power.
Archangels, particularly Lucifer and Gabriel, can literally create anything out of thin air (and uncreate it just as fast) create time loops, dimensions, and illusions.
STATUS of power: Presumably taught individually by Lucifer, Gabriel is Reality Altering-oriented to an extreme.
All of which were only able to through a deal, of the lot Azazel, is the strogest as he doesn't require a soul in payment from a deal.
Objects
Community content is available under
CC-BY-SA
unless otherwise noted.