The Sandman Will Keep You Awake - The Loop
Play Sound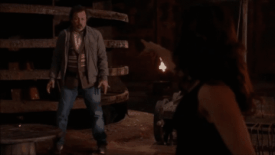 Reality Warping is the power to change the properties or appearance of things, beings and even physical or spiritual laws by literally changing reality itself, or even constructing a new aspect of reality. It can be extremely powerful if used properly.
It can also be accomplished by certain objects, like the Tiamat Coin or Rabbit's Foot.
Many powers can be seen as a form of Reality Warping:
Chronokinesis - Change the flow of time
Conversion - Changing the properties of a being and thus transforming it into something different.
Conjuration - Create something (alive or not) out of nowhere.
Healing - Heal the injuries of a person (supernatural or not).
Resurrection - Make a soul leave their afterlife and go back to the world of the living.
Telekinesis - Changing the location of a target.
Portal Creation - Creating a portal to another plane of existence or reality.
Power Granting and Power Negation - Changing the abilities (and thus also properties) of a being.
Biokinesis - Manipulate the properties of living things (bacteria, cells, organism).
Thermokinesis - Changing the energy of each particle of a target.
Electrokinesis - Changing the voltage difference between two points and thus generating electricity.
Tychokinesis - Manipulating probability, enabling the user to generate effect in their favor. Beings and objects with the ability include but aren't limited to the rabbit's foot and God.
Characters and objects with this ability
[
]
The Darkness - She is able to completely annihilate everything she wants, including the universe, the spiritual realms and all life in existence. Prior to the creation of the universe, she destroyed multiple worlds God created. She once turned Metatron into nothing. At the same time, she is also able to create matter out of nothing, rebuilding Mary's body while resurrecting her despite her leaving no corpse, but Lucifer has indicated that despite her claims of being able to create a new reality where no one suffers, her powers of creation are not at the same level of God. In addition, Amara displayed her immense power and control over the physical universe by keeping not only her manifestation but also Dean completely unaffected by the severe winds caused by her true form as well as being able to turn water into blood.
God - He can not only warp reality to a nearly unlimited extent, able to decide the course of destiny to his will, but also create new realities, having created the universe and before that, multiple worlds that were destroyed by the Darkness. God even proved capable of neutralizing the tremendous powers of both Amara and Jack, dissipating the fog unleashed by his sister and bringing back anyone affected by it and simply snapping his fingers to undo the chaos Jack created. He was also powerful enough to bring upon the Apocalypse single-handedly even after he was shot by the Equalizer, which left his powers diminished, turning day to night and opening every gates in Hell, even including Lucifer's Cage. Without even gesturing, just by thinking, he was able to make himself constantly win the game of a slot machine. He was able to take away the luck, he gave Sam and Dean over the years, rendering them to normal people.
Archangels - As shown with Gabriel, archangels are capable of warping reality to unimaginable degrees. They can create time loops and spontaneously create or uncreate pretty much anything.

Gabriel - Gabriel was phenomenally talented with this power, being able to do things in winks, snaps, gestures and even thoughts. Once, he even put Sam and Dean in a TV universe.
Lucifer - Lucifer apparently taught Gabriel everything he knows about this power and therefore outdo everything Gabriel ever did. He was able to turn on music from out of nowhere in Limbo with a snap of his fingers and could prevent his clothes from burning when attacked by a blast of fire from Kali.
Michael - Michael was able to make his footsteps sound heavier and emit an angelic high pitched ringing while in a vessel to intimidate the Winchesters and Castiel.
Seraphim

Castiel - Castiel was able to shake a 'Sorry' board game and, instantly, everything was set up. Later on, he was able to send his blood into a glass by holding it.

Angels - Sam makes a comment in Plucky Pennywhistle's Magical Menagerie that regular angels apparently can warp reality, but to an unknown degree.

Castiel - Even after being cut off from Heaven, Castiel was able to carve Enochian sigils into Sam and Dean's ribs just by touching them. 
Zachariah - He could transform a falling to pieces office in an abandoned muffler factory in Van Nuys into a Green Room. He also conjured food and drinks, as well offered to create women for Dean.
Deities have ranging power over warping reality.
Any demon requires at least a deal to bend the laws of the universe. Azazel is one of the strongest because he doesn't require a soul in payment from a deal, and Lilith claims she can do this but never demonstrated it.
Objects and Sigils
[
]
Other
[
]
Fairies - Some powerful fairies can alter reality.
Ghosts (some, to a limited extent).
Mythmaker - a person who is blessed with very strong intent. By such a level of intent, they are even capable of bringing art to life. Eventually, the mythmakers turn myth into reality. Mythmakers, trained or not, were born with very high level Reality Warping powers. A mythmaker is a natural-born talent, and cannot be obtained through means of magic.
Soul Eaters - Soul Eaters possessed unique and somewhat very large powers to create their own dimension called "The Nest". Naturally, Soul Eaters inhabit a plane between the human world and another, a sort of inter mundi that exists outside of time and space, and by tapping a large amount of their powers (according to Sam), they created it when hunting their prey. The Nest takes on the appearance of the home it is in, albeit much darker and twisted to mess with their victim's emotions and make them vulnerable and tamed.
Cosmic Entity - When resurrecting Castiel, the entity was able to restore Jimmy Novak's body to act as Castiel's vessel despite Jimmy's body being burned and destroyed in a Hunter's Funeral.
Marid - In exchange for being fed, they can give out riches, health and anything that a person can dream of.
See also
[
]