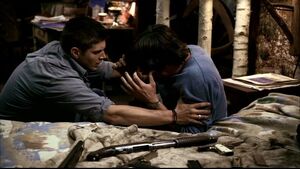 Precognition is the ability to see into the future. The distance into the future varies; the ability defers between people. Humans with this gift, like Chuck Shurley, Sam Winchester, or Ava Wilson, have absolutely no control over it whatsoever, however archangels can control the power. They are forced to see these visions and choose to act or not to act upon them.
Characteristics
Demonic
Sam and Ava Wilson who are both special children that can see the future involving something related to Azazel, or any other of the special children. When it comes, they get a headache, and then the vision comes.
Prophetic
Chuck is a prophet of the lord who can see Sam and Dean's lives, as well as their futures. Like Sam, he too gets headaches, and see what happens next.
God Ability
Due to Chronos being the god of time, he was able to see into the future. He used to ability to make a living on horse racing. Before dying he told Sam and Dean that their world is soon to be covered with black goo.
Known Holders