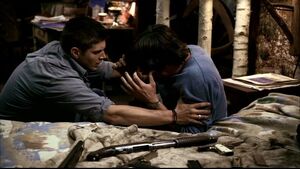 Precognition is the ability to see parts or glimpse of the future. The distance into the future varies, but is never the whole thing; the ability defers between people. Humans with this gift, like Sam Winchester, or Ava Wilson, have absolutely no control over it whatsoever. However, Archangels can control the power. They are forced to see these visions and choose to act or not to act upon them.
Characteristics
Edit
Sam and Ava Wilson who are both special children that can see the future involving something related to Azazel, or any other of the special children. When it comes, they first get a headache, and then the vision comes.
Temporal Foresight
Edit
Due to Chronos being the god of time, he was able to see into the future. He used to make a living on horse racing by using his ability. Before dying, he told Sam and Dean that their world is soon to be covered with black goo. By devouring the eyes of victims, Gorgon were able to see the future and used it to his advantage by evading hunters.
Mark of Cain
Edit
While possessing the Mark of Cain, Dean Winchester learned that the Mark had this power as he had a nightmare about being in a room having slaughtered a group of men. It later came true.
Powerful psychic Missouri Moseley was shown to possess this gift with her granddaughter Patience Turner inheriting it from her.
Known Holders
Edit
Community content is available under
CC-BY-SA
unless otherwise noted.