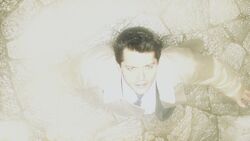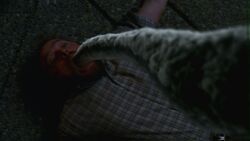 Possession is a process where a being takes control of another being's body.
Certain creatures require human bodies to interact with the physical world. These are normally spiritual beings such as angels and demons. All beings with this power, except angels, can take control of the person in question involuntarily. Angels, however, require permission from their host. It's also possible for the host to revoke their permission, thus stopping the Angel coming back in, or expelling them from within if they manage to take back control to do it. Angels can't possess just anyone; as Castiel explained, "Finding a human vessel durable enough to contain me is not easy". As such some humans aren't strong enough to hold an angel: in this case, the vessel will break down over time or be almost immediately destroyed when the angel enters it. As such they prefer what is called a true vessel, to avoid destroying their host, a fact that is highly emphasized with archangels.
While possessed, the human vessel will not age.
The most advanced known form of possession demonstrated so far, is the successful possession of a non-human and non-corporeal being, specifically a reaper, something that only Azazel has accomplished.
Archangel possession, as opposed to other forms of possession, is much more complex and damaging to the host, as exempt from the true vessels, the Archangel's sheer power will be too much for a human body to withstand, causing it to slowly, sometimes even quickly decay.
While it is possible for a human to overcome possession by a demon, it is incredibly rare and requires an incredibly strong emotional stimulus, such as very close family coupled with very strong willpower. It is nearly impossible to overcome angelic possession. However, Sam temporarily managed to overpower both Lucifer and expel Gadreel which is possible as an angel requires permission from their vessel and if they lose it, they can be expelled. However, Dean was unable too expel the alternate Michael, indicating that Archangels cannot be expelled by their vessels by revoking permission.
Lucifer appeared to be able to possess people with his voice as the only bodily manifestation, an ability seeming unique to him alone, as shown when he talked through a nun while still trapped in the Cage.
It is possible for an Archangel to repossess a prior vessel without regaining permission if they leave the door open a crack in their vessels mind. The only being to do this so far is the Alternate Michael, leaving it unknown if this method can be used by a regular Angel.
When a person is possessed, it can also have an effect on the person's biology: for demons, the person's blood changes to become demon blood, but changes back when they leave their vessel. The same thing happens with angels, only changing to Angel blood. Eve caused her host's body to start producing monster eggs even after death and also caused her vessel to bleed black blood. Ghosts can sometimes cause their vessels to excrete ectoplasm, and similarly, the Khan worm causes its vessel to excrete slime when in pain. Leviathans literally alter the whole body: making the host near-invulnerable, and allowing it to morph so the Leviathan can feed or take on another identity (as demonstrated with Annie/Dr. Gaines).  
It is revealed by a demon in "Torn and Frayed" that when they possess a body they possess every part (muscles, cells, brain), rather than simply taking over, thus explaining why possession causes biological changes. He speculated if angels have the same effect while taking possession of a human host. Whether or not it was the same was never explained clearly, although the fact his torture was successful in accessing Samadriel's brain indicates it is.
In a case of multiple possession, it has been shown, at least on a case where a demon and an angel are both vying for control, possessors are on equal footing, with the angel unable to smite or cast out a demon as easily as it would under normal circumstances.
Some ghosts can possess people but it usually takes years of practice and building up power to do that. It's a rare power and one only Vengeful Spirits and Specters seem to display. Bobby Singer mastered this power quickly after becoming vengeful, but that was because he was very angry at the time. A ghost can be kicked out of the body they are possessing if they touch salt or iron. Possessing someone also allows them to travel away from whatever is tying them to the Earth. In Dirk MacGregor, Jr.'s case, it allowed him to travel away from the lock of hair he was bound to and thus the bus where he possessed people. In Bobby's case, he carried the flask he was bound to with him in Louise's body and Vance Collins possessed people who had hold of his Indian Head Penny and when they lost their grip on it, he lost his control over them.
Protection
Edit
Against Demons:
Against Angels: As shown, it is nearly impossible to remove an angel once inside a vessel.
Against Ghosts:
Entities With This Ability
Edit
Body Materialization
Edit
Body Materialization
is the ability to summon or create a physical body; normally for an ethereal/spiritual being to use to effectively operate in the physical world.
Acheris
can materialize themselves as little girls without the need for a body to possess.
Four Horsemen of the Apocalypse
are able to materialize their own human bodies, though
War
still had to or chose to take the form of another human. 
In real folklore, angels can create their own physical body and pass themselves as normal humans. They do not possess humans like on the show.
Known Holders
Edit
These characters can manifest themselves without the use of vessels, instead, they just assume human form.
Community content is available under
CC-BY-SA
unless otherwise noted.