A Pishtaco is a parasitic monster that is indigenous to Peru.
Pishtacos are fat-sucking creatures rarely seen in the United States. They are similar to vampires, but feed only on human fat. They survive entirely upon it, and seem to possess a great hunger for it. Unlike vampires, which are regarded by the Pishtacos as killers, Pishtacos are more like parasites and do not hunt down their prey to feed. However, some Pishtacos do hunt humans for their fat. Just like most other monsters they look completely human, but their eyes roll back and reveal an elongated sucking appendage that they release from their mouth when they feed.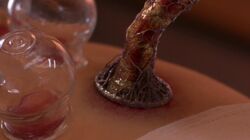 Community content is available under
CC-BY-SA
unless otherwise noted.