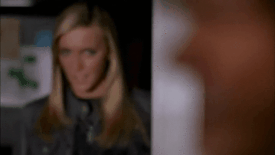 Photokinesis is the devastating ability to emit burning light[1] from one's body, mostly through the palm. This ability is rare and is limited to extremely powerful beings, such as angels and some high-tier demons. Sam Winchester is immune to the demonic version, and it is presumed the other Special Children share his immunity, however the angels' version could easily destroy them. Exactly how different the angelic version from the demonic version is unknown. Angels can also use this light in a smaller amount to heal wounds and for Astral projection.
Its strength can also be controlled, from harming a single being to destroying entire cities. 
Characters with this ability
The Titanic. Yes, well, uh, it was meant to sink, and I saved it.
This article or section is about a canonical subject but contains information from sources (novels, animated series or comics) that are either not canon or are dubiously canon.
Gallery
References