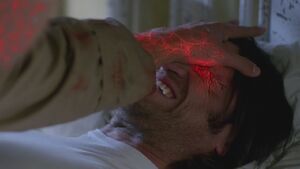 Perception Altering is the ability to control, alter or induce effects up other being's perceptions. This is quite a powerful ability, if used properly.
There are is great variation in the extent of this power, depending on its wielder, at its weakest, it can only create unstable hallucinations, that are easily snapped out of, however at its strongest, it allows the user to have complete control over what the subject (or often subjects) perceive. An extreme amount of profuse torture can alter one's view of reality, such as Michael and Lucifer's treatment to Sam's soul.
Bearers of the Power
Community content is available under
CC-BY-SA
unless otherwise noted.