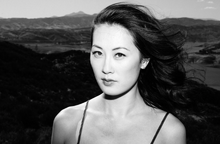 Olivia Sonya Cheng is the actress who portrayed Susan in Season 7 of Supernatural.
Background
Edit
Olivia Cheng was born in Edmonton, Alberta, to Cantonese-speaking immigrant parents, who were part of a co-founding group of parents that created the Edmonton Chinese Bilingual Education Association's Mandarin program within the city's public school system. She credits this for her ability to speak Mandarin and instilling a reverence for her culture. Her background has heavily influenced her breakout role in the Weinstein Company-produced series, Marco Polo (2014), which premiered on Netflix in December 2014.
Olivia enrolled in her first acting class at age six, and at age 19 she booked her first local commercial. After high school, Olivia attended the University of Alberta where she earned a scholarship and early admittance to its commerce program. Unhappy in university, she enrolled at NAIT's Radio and Television Arts program the following year, which would lead her to a successful media career. After finishing school, she became a videographer for Global TV Lethbridge, before moving back to Edmonton to work as a broadcast and print journalist. Olivia went on to freelance as a correspondent for ET Canada, but soon realized that she wanted to be on the other side of the interview.
At this time, AMC was launching its original content division and came to Alberta with a Walter Hill-helmed mini-series executive produced by Robert Duvall. They were looking for five Chinese actresses, but were willing to look at non-professionals as well. Duvall saw Olivia's audition out of over 100 performances and asked to bring her back. She was then cast in Broken Trail (2006), which was nominated for 16 Primetime Emmy Awards and would go on to win four, including the Emmy for Outstanding Mini Series. Since then, Olivia has appeared on USA's Psych (2006), Fox's Fringe (2008), CTV's Flashpoint (2008), The CW's Arrow (2012), and CBC's Arctic Air (2012).
Olivia has toured parts of the world on a public speaking peace tour about the Nanking Holocaust.
In addition to being an actress, Olivia was a TV reporter and competitive gymnast.
External Link
Edit
Community content is available under
CC-BY-SA
unless otherwise noted.