Naomi is an angel that was responsible for sending 'an incursion' that claimed several angels' lives to save Castiel from Purgatory. Her exact status is yet to be shown but it appears she holds some authority in Heaven.
History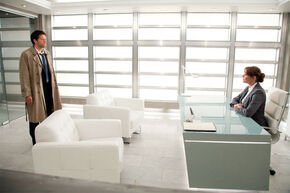 Briefly after Castiel confronted Crowley, she whisked Castiel to heaven. She told Castiel she was responsible for saving him from Purgatory. Naomi asked Castiel to tell her information about the Winchesters, which Castiel did casually, much to his own surprise. Naomi then urged Castiel to help the Winchesters recover the tablet. Before she sent Castiel back to Earth, Naomi made it clear she wanted Castiel to report to her every now and then. She also promised that no one will even know when and if he reports to her. Castiel disagreed, but Naomi disregarded his resistance and merely smiled. True to her word, when she sent him back, he was unable to remember he had spoken to her.
Powers & Abilities
Truth Compulsion - Castiel replied immediately and in full to any question she put to him. Since he was unable to understand why he did so, it is likely she compelled him to answer truthfully.
Memory Removal- When Castiel was returned to Earth, he was unable to remember speaking with her.
Appearances
Notes
Her character is supposedly from a group of angels never seen before. Whether this means they are simply a different faction or an entirely separate class of angels is yet to be shown.