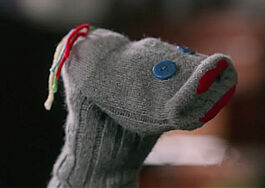 "
Mr. Fizzles wants to help Tess. He wants to listen.
"
Mr. Fizzles is Garth Fitzgerald IV's puppet.
Mr. Fizzles is a sock puppet Garth uses during some of his hunts, namely for interrogating people who would rather stay quiet, such as children. He makes his debut in the Season 7 episode "Party On, Garth", when a witness to a shojo attack, Tess McAnn, refuses to talk, Garth "summons" Mr. Fizzles to speak in his stead. This convinces Tess to talk about the shojo that killed her mother.
In "Torn and Frayed" Garth is revealed to own a safe boat, Fizzles' Folly, presumably named after Mr. Fizzles.
After becoming a werewolf, it is unknown if Garth still keeps Mr. Fizzles.
Community content is available under
CC-BY-SA
unless otherwise noted.