Mordechai Murdoch was an unintentionally-created Tulpa based on a story created about the legend of 'Mordechai Murdoch'.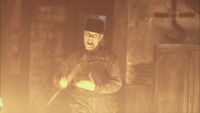 The story spreads to the Internet via the Hell Hound's Lair where images of a Tibetan Spirit Sigil, that Craig Thursten and his cousin painted in an abandoned farmhouse, concentrate the viewer's thoughts, which then manifests as Mordechai.
Mordechai was destroyed when his physical base, the Hell House, was burned down by Dean.[1]
Aspects Rewriting - Rewriting any aspects of the tulpa will change his aspects. It can be used to dispatch him.
Fire - Capable of distracting him and disturbing his physical manifestation.
Physical Base Destruction - Destruction of his physical base will (presumably) destroy him forever.
Community content is available under
CC-BY-SA
unless otherwise noted.