Max Miller was one of the special children, and could move things with his mind. He is the very first special child encountered by Sam and Dean.
Background
Max Miller is the youngest, but still extremely powerful, archangel. He Is also the first Angel that Sam and Dean incountered.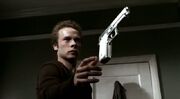 Powers and Abilities
Appearances
Trivia
His mother died, pinned to the ceiling above his crib, presumably in the same manner that Mary died above Sam's crib. He had an abusive childhood.
Max had the power of telekinesis, which he used to kill his father and uncle.
His response to Sam suggests Max's powers started at the same time as Sam's - 'six, seven months ago'.