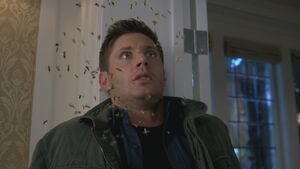 Magic is the art of speaking words in a determinated order ("spells") or use symbols with the goal to achieve a supernatural alteration of the world. Though magic is oftenly associated with demons , human hunters like Sam and Dean use magic to some extend to fight against supernatural beings.
Abilities & Powers
Conjuration: The act of creating, calling, commanding, or summoning a certain object, person, and/or spirit already in existence.
Elemental Control: The act of controlling and manipulating the elements of air, earth, fire, water, and weather.
Spell Casting: The act of changing and/or controlling events through the use of charms, hexes, rituals, etc.
Telekinesis - The act of controlling and manipulating the movements of objects and persons by mental influence.
Witches Brew: The act of brewing and concocting paranormal elixirs that contain supernatural properties.
Tools
Amulets and Talismans: Materials used to bewitch and/or curse another person.
Books of Shadows: A magical book documented with ancient recipes, rituals, and spells.
Candles: Materials used to amplify a witch's spells.
Hex Bags: Materials used to curse, kill, or protect another person.
Herbs and Roots: Materials used as ingredients for brewing magical potions.
Other Forms of Magic
Angelic Power - An angel is a very powerful being of Heaven. Their magic is commonly done with Enochian symbols. Enochian can be used to bind demons, protect an area from angelic interference, and/or conceal humans from "every angel in creation". Also angels seem to gain a lot of their power from Heaven. However it appears the Archangels aren't held by this restriction.
Demonic Power - A demon is an extremely evil and powerful being of Hell. Depending on the the type of demon, their powers vary in both form and strength. However the most common power shown by all demons is Telekinesis.
Pagan Deities Power - Pagan deities possess powerful magical powers however not much is known. However it appears the type of deity determines what kind of powers their have. Some are telekinesis, temporal and spatial manipulation, reality warping, elemental generation, manipulation and even spellcasting as Kali is capable of casting a blood spell.
Fairy Power - It's a unique type of magic used by fairies. All fairies wield it, but to what extent varies depending on the type; the most powerful known type of fairy are Leprechauns, who claim they could perform feats beyond that of angels, such as rescuing Sam's soul from Lucifer's cage, although these claims are never proven. Fairy magic itself is presumably quite powerful, as they refer to it as "real magic" when compared to Angels; Wayne, the first and only Leprechaun revealed in
Supernatural, said this. They can all use it to become invisible and to teleport.