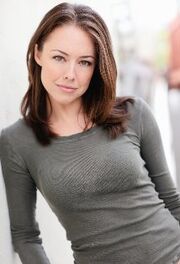 Lindsey McKeon (born 1982) is an American actress who portrayed the Reaper Tessa in Supernatural, as well as Prince of Hell Azazel for a brief period of time during the Season 2 episode In My Time of Dying.
She has also appeared on other TV shows such as One Tree Hill, CSI: Miami, House M.D, Veronica Mars, and Guiding Light. She previously starred on Saved by the Bell: The New Class as Katie Peterson from 1996-2000.
Trivia
When she found out that Tessa was going to die, Lindsey admittedly wept. She did however, believe Tessa's suicide made sense.
External Links