"
They're pretty much like shapeshifters, really, but more into eatin' folk and nothin' can kill 'em.
"

— Bobby Singer, on the Leviathans

The Leviathan, also called the Old Ones, were some of God's very first beasts, and thus pre-date angels, humans, and demons. The beasts proved to be too hungry and destructive, so God created Purgatory and locked them inside. They were inadvertently released when Castiel opened Purgatory and absorbed all the souls inside in order to defeat Raphael.
Characteristics
"
Long before God created Angel and Man, he made the first beasts: The Leviathans.
"

— Death
According to Death, Leviathans were among God's earliest creations. Unfortunately, the beasts proved to be too destructive, so he locked them away in Purgatory - which Death reveals as being specifically created to contain Leviathan. Death describes them as "clever" and "poisonous". He also says he personally found them "entertaining" but God was worried they might "chomp the entire petri dish." In addition, after locking the Leviathans up, God devised a means of killing the Leviathans should they ever escape Purgatory.
Based on remarks made by both Edgar and the Alpha Vampire in "There Will Be Blood", Leviathan are just as old as Eve and may even be related to her in some way. This is supported by the Alpha's claims that the Vampires originate from Leviathan - to which Edgar responds, "barely". Furthermore, when the Alpha points out that he is a son of Eve, Edgar replies that he knew Eve and that she was a "whore" and a "mutt" hardly one of their kind.
In general, Leviathan regard humans as little more than cattle and food. They do, however, have some respect for certain individuals, such as Charlie Bradbury and Kevin, who possess a certain "spark" that the Leviathans are unable to copy. Leviathan also consider Demons, Vampires and other species as even lower than humans, and ultimately intend to wipe them all out. Leviathan are also cannibalistic, eating other Leviathan for their failures (or just being annoyances). Their leader is known for his cruel punishment, known as "bibbing," in which he forces a Leviathan that failed him to eat itself.
Though chaotic, it is established that Leviathan have some sort of hierarchy, with several of them taking orders from their leader, Dick Roman. Under Roman's command, there are head Leviathan, like Edgar and Joyce, who in turn have authority over other Leviathan. Dick Roman orders several Leviathan to hunt down those in their group who have been feeding indiscriminately and to deal with the Winchesters and their allies. It seems that the higher-ranking Leviathan have an easier time controlling their hunger. In general, higher ranking Leviathan can easily keep the lower ranking ones under control. However, the lower ranking Leviathan are capable of disobeying and even turning against their superiors, as George did with Joyce in "Out With The Old". Only Dick Roman himself seems to command absolute respect and loyalty from the Leviathan species as a whole. However, with Dick dead, the leviathan hierarchy is destroyed as they have no-one to turn to as Crowley points out they have only ever had one "King".
Their true form hasn't been fully shown, but they have to have one, as they functioned efficiently without vessels. They do, however, take like-serpent shape underwater. Once within a vessel, Leviathan are able to shapeshift without taking a new one. While in a host, they can dislocate the jaw and reveal a mouth full of large teeth and a forked tongue. They can also have particular tastes. For example, Chet liked to eat his victims with melted cheese sauce as "everything tastes better with cheese." Dick Roman sometimes had his meals barbequed. Leviathan are also capable of eating human food, such as hamburgers and salads, but they find it disgusting.
Powers and Abilities
"
You know, Leviathan can kill angels. There's a reason why my father locked them in Purgatory. They're the piranha that would eat the whole aquarium.
"

— Castiel
As Gods first creations, Leviathans are powerful beasts, more powerful than most other creatures, and able to kill and/or eat just about everything else.
Powerful Jaws - Leviathan jaws are immensely strong and can rip open almost anything they bite into. (Including humans, Angels, Demons and various other creatures - even other Leviathan).
Invulnerability - The only way for a hunter to kill a Leviathan is with a Bone Of Righteous Mortal Washed In the Three Bloods of Fallen. They heal quickly from physical injuries. The only way to cripple one is to remove its head and hide it so that it can't reattach to its body. Borax is extremely caustic and painful to most Leviathan, but not deadly. God and Death are presumably capable of killing Leviathan. Significant force, such as being crushed under a falling car, can knock them unconious, but only for a short while.
Immortality - Being creatures older than souls and angels, the Leviathan are immortal, in a couple of senses, in that having an ageless lifespan, meaning they simply do not age, and can't be killed by but one mean, devised by God himself.
Regeneration - Leviathan can heal wounds they receive and can even reattach their heads when cut off. Their leader, Dick Roman, can heal much faster than an average Leviathan.
Possession - Leviathan are able to take over a human body, much like demons can. Many of them can possess a single host at once, as demonstrated with Castiel.
Shapeshifting - Leviathan are able to shapeshift to match anyone whose DNA they have access to. This also allows them to access their form's memories. Unlike most other shapeshifters, they have the ability to mimic a human's specific clothing as well, making it even easier to impersonate people. They can also shapeshift into creatures of a different species such as vampires. However, it would seem they cannot copy Prophets seeing as how Dick Roman kept Kevin Tran alive to decode The Word of God rather than simply copying him and absorbing his memories. Leviathan can also not copy other Leviathans, as evidenced by the fact that Dick had to use a piece of the original Dick Roman to make his duplicates.
Superhuman Strength - Leviathan are immensely stronger than normal angels, humans and demons. Much like demons and angels, the higher-ranking Leviathan are stronger than the lower-ranking Leviathan.
Superhuman Intelligence - Leviathan were able to make a food additive that cured cancer, AIDS, and other human diseases that would make humans less desirable "cattle." The additive also killed vampires and other non-leviathan beasts, as well as made humans compliant. They also made another additive that killed people with undesirable traits (low body mass, hemophilia, high IQ). In addition, they were able to track the Winchesters' location with complex computer algorithms, something vampires, demons and even angels failed to do or be aware of, resulting in Bobby calling them a "Mensa monster."
Super Stamina - Leviathan have unlimited stamina and never tire, however they do get hungry.
Enhanced Senses - Leviathan have far superior senses compared to humans. Edgar, for example, was able to tell that a small puddle of blood had come from Dean. They are unable to see certain entities such as ghosts, but they can sense angels and demons.
Soul Reading - Leviathan can sense whether a human can be successfully copied or not - as Dick Roman managed to sense the "Spark" in Charlie Bradbury's soul that prevented him from simply copying her.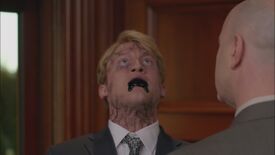 Black Venom - It is shown by Edgar that at least high ranking Leviathan are able to instantly kill angels (and probably other creatures if not anything including themselves) by sticking their fists into their chests and injecting them with black Leviathan blood. Victims of this ability swell up grotesquely, their blood vessels darken, and black blood spews from their mouths as they die.
Immunity to Angelic Power - Edgar was unaffected by an attempted counterattack by an angel, shortly before killing the angel.
Vulnerabilities
Bone Of Righteous Mortal Washed In the Three Bloods of Fallen: According to The Word of God, the bone of a righteous mortal (as good and light as the Leviathan are hungry and dark) washed in the three bloods of the fallen (fallen angel, ruler of hell and father of fallen beasts) is the only way to kill the Leviathan. When stabbed with this weapon, the Leviathan will bleed black blood, then start generating ripple-like pulses through the air, then finally explode in a shower of black goo. Due to the rarity and complexity of such a weapon, this aftereffect may only apply to Roman as it was only used on him; it may be less explosive used on lesser Leviathan.

Witchcraft: It's unknown if witchcraft can kill a Leviathan. The very powerful witch Don Stark stunned a low ranking one with ease and in a blink. Furthermore, the spell lasted for days, leaving the Leviathan in a very weak state which might be evident to their lack of defense against magical means.
Decapitation: By removing a Leviathan's head, the Leviathan is rendered unable to act. However, the head must also be hidden to keep it from reattaching. or it will, eventually.
Borax: Borax is extremely caustic to Leviathan, weakening them and eating their flesh much like Holy Water does to demons, giving hunters and other beings enough time to decapitate them. The Leviathan boss, Dick Roman, is somewhat immune to the chemical and finds it "bracing".

Ghosts: Leviathan can be overpowered by ghosts, as seen when the ghost of Bobby attacks Dick Roman. Leviathan are unable to see ghosts as this could apply that they lack such supernatural senses.
Hunger: Leviathan are constantly hungry, which can lead them to making mistakes, such as becoming distracted or revealing their true form. Leviathan are also a cannibalistic species; one of the currently known methods to permanently destroy a Leviathan is for one to eat another, or for one to eat itself (a punishment known as "bibbing").
Archangels: Archangels could harm and possibly kill Leviathans but the elites could probably stand a chance such as Edgar and Dick
Season 7
When Castiel cracked open Purgatory and imbibed the souls found in there, he also unknowingly absorbed the Leviathan. After some time, they began manifesting in him and asked him to let them out.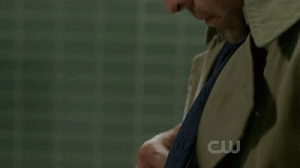 Due to their uncontainable power, Castiel's vessel began deteriorating, until he could no longer hold it together. Coming to Sam and Dean for help, he, with the help of Dean and Bobby, opened the door to Purgatory again and hurled the souls back in. Shortly after Castiel had got rid of the souls and his body was repaired, he realized the Leviathan were still inside him. Unable to hold up against them, he finally succumbed and the Leviathan surfaced, telling Dean that Castiel was now "gone". Relishing their new-found freedom, they inform Dean that now they are going to have fun.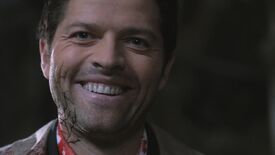 However, they are soon forced to leave Castiel's body due to the vessel being unable to handle them. So, using Castiel, they head to a water reservoir and, using the water, spread to the population, taking new vessels, thus possessing multiple people. They then break into two distinct groups; those who can control their hunger and proceed to observe the human world and those who act careless in their feeding and thus draw attention.
Two Leviathan meet in a park to discuss the current situation. The Leviathan possessing Edgar reveals to the Leviathan in the girl's body that he is here because the "Boss" heard about the careless feeding of some of the others and is angry that it has drawn human attention. He tells her to get the Leviathan in the area in line because their leader "hates bad news".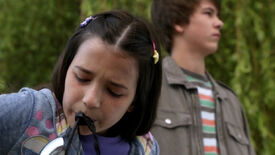 They realize they can't leave Sam, Dean and Bobby alone, and decide to get rid of them. This leads to Edgar burning Bobby's house down and attacking Sam and Dean. Sam and Dean manage to get away and Leviathan set their feelers out. They begin tracking the Winchesters, flagging their credit cards. Chet manages to catch up with Sam and Dean, but is stunned by Don Stark. Sam and Dean put the body in the Impala.
Later, two Leviathan impersonate Sam and Dean and go on a bloody rampage; turning the brothers into public enemies and to draw them out of hiding. Thanks to Bobby discovering the Leviathans' weakness to Borax, they are able to deal with their dopplegangers and again convince the world they are dead. The Leviathan disguised as an FBI agent comes to collect the bodies, but the sheriff lies to them. The Leviathan returns later and eats the Sheriff and his daughter.
Elsewhere Crowley meets with the leader of the Leviathan who is impersonating businessman Dick Roman. Crowley attempts to secure an alliance with the Leviathan but Roman see's through Crowley and tells him he would rather "swim through hot garbage than shake hands with a bottom feeding mutation like you." The creature explains that it sees demons as lesser than humans, whose only use is a food supply. Roman tells Crowley not to bother him again and warns him that, if not currently occupied with other matters, the Leviathan would wipe demonkind out in a heartbeat.
While the brothers work to discover the Leviathans' master plan they learn from the deity Chronos that the Leviathan will soon cover the Earth, leading to oblivion.
It is later revealed that the Leviathan are lacing hamburgers sold at restaurants with a chemical that turns humans into complacent, overweight drones, ready for the slaughter. Dick Roman, however, shuts down this project when a small number of humans are turned into cannibalistic creatures.
After a run in with a Leviathan, the brothers are told that Dick is building a research center to, apparently, cure cancer. "We're only here to help".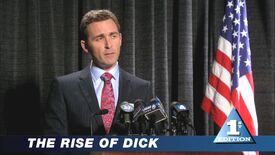 At the beginning of "The Girl With The Dungeons and Dragons Tattoo", the ghost of Bobby tells Sam and Dean that he thinks the Leviathan aren't here to hunt humans, but to harvest them as cattle - hence explaining their desire to "cure" humans of diseases. Sam and Dean enlist the help of hacker Charlie Bradbury to infiltrate Dick Roman's headquarters, and they are able to intercept a package which turns out to be a stone tablet.
In "Reading Is Fundamental", the chosen prophet Kevin deciphers the tablet the Winchesters stole from Dick Roman. The tablet, which holds one of the Words of God, is revealed to be an "emergency note" concerning the Leviathan. It states that the Leviathan can be killed with the "bone of a righteous mortal dipped in the blood of the fallen". Castiel provides some of his blood, as he is a fallen angel.
Later, Edgar kills the two angels who were assigned to reunite Kevin with his mother, proving that his kin is stronger than the latter.
In "There Will Be Blood", the Leviathan purchase SUCROCORP and begin lacing the high fructose corn syrup additives in processed foods with their DNA-altering chemicals. Already, many people have begun falling victim to these tainted food. It is also revealed that the Leviathan have made an alliance with the Vampires, allegedly to jointly harvest the human population. However, this alliance is broken when the Winchesters expose the Leviathans' plot to exterminate the vampires, along with all other species that prey on humans. They also decapitate Edgar. At the end of the episode, the Alpha Vampire gives the Winchester some of his blood to help kill the Leviathan.
In the Season 7 finale "Survival of the Fittest", the Leviathan expand their plans to not only fatten and harvest the human population, but to also exterminate those humans with undesirable qualities (people who are too thin, too smart, or have hemophilia). They intend to do this through a dairy cream engineered to kill only people with low body mass. However, these plans are foiled when Dean and Sam Winchester break into SUCROCORP, and Dean stabs Dick Roman with their weapon, killing the Leviathan leader, though Dean and Castiel are transported to Purgatory in the process.
Without Dick Roman's leadership, the remaining Leviathan apparently flounder and are unable to execute their master plans. As Crowley puts it, they've become "just another monster" that's hard - but not impossible - to kill, though he also warns Sam that they have to be prevented from organizing again.
Known Leviathan
Castiel - (He initially hosted all the Leviathan, up until they disposed of him, taking on all new forms)
Appearances
Lore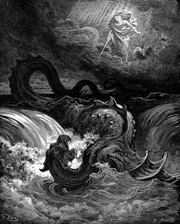 In the Judeo-Christian tradition a Leviathan is a giant sea monster, described in the Book of Job Source. The Talmud Baba Batra 75b states that the archangels Michael and Gabriel will be the ones who slay the Leviathan. Other legends say God will slay the beast. Source: Leviathan in Judaism. Death also refers to the Leviathans as "The Old Ones" a term used by H.P. Lovecraft in the Cthulhu mythos to describe ancient powerful alien beings who come to Earth. A race called the Old Ones also features in Stephen King's Dark Tower Series. In Binsfeld's Classification of Demons, Leviathan is the name of Envy, one of the Seven Deadly Sins.
Trivia
They are the main antagonists of Season 7.
Castiel and others refer to the Leviathan species as Leviathan (singular), however, Sam and Dean usually refer to the species as Leviathans (plural).
They are the first beings to appear in more of 10 episodes during their inaugural season.
While the name Leviathan comes from Job 41 the creatures have more in common with Kabbalahistic stories. Genesis 1 mentions the creation of man and woman before discussing Adam and Eve. Some Jewish texts suggest a race of intelligent beings were created before humans. It goes on to suggest that these beings were so terrible God destroyed them but their spirits lived on as demons.
The Leviathan are unusual in that they are the only creatures to possess another creature which is using a vessel, because they possess Castiel while he is in possession of Jimmy Novak.
The species shows great disdain and at times disgust towards every other creature, an oddity in the SPN universe.
They were referred to as "The Old Ones" by Death. This may be a reference to the ancient creatures described by H.P. Lovecraft, who had previously created a portal to Purgatory, where the Leviathan were once imprisoned.
It's worth knowing that the Leviathans may be based on the creatures of the same name from the TV series Dark Shadows. In the show the Leviathans were an ancient race of monsters that ruled Earth before humans, their true form was serpent-like but could take human form, and they ate humans. Similar to Supernatural, The Leviathans wanted to reclaim the earth and the main character and vampire, Barabas Cullens said that the Leviathans were based on H.P.Lovedcrafts books. It's possible that the writters used the ideas of the Leviathans from Drak Shadows and used it for the show.
The Leviathans are sometimes referred to as "chompers" or "Levis" by other characters in the series.
Despite Leviathans not having souls, whatever comprises them as a being returns to Purgatory upon their death. ( This was confirmed by Death as they are older than souls.)
It's unknown if the Leviathan are truly older than Angels. Death's statement of, "Long before God created Angel" would mean all angels. However, Castiel said Metatron was a Scribe while God was forming creation, which would make him older than the Leviathans. ( However, it should be noted that it's unknown which time of creation Castiel was referring to.)
Upon "riding Castiel into Paradise", the Leviathan essentially absorbed all of Cas' memories of Heaven, and the one getting a DNA sample off of Sam, bears all of Sam's "cage-match scars" unphased.
Interestingly enough in the novel One Year Gone, the second prince of hell is called Leviathan as well.
In Hebrew, Leviathan literally means a whale.
If a Leviathan gets very hungry it feeds on almost anything that comes in its path (including humans, Angels, Demons and various other creatures - even other Leviathan).
The name Leviathan is also the demonic name for Envy of the 7 deadly sins.