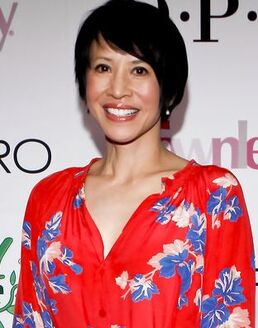 Lauren Tom (born August 4, 1961) is an American stage, film, television and voice actress of Chinese descent.
She played Linda Tran in season 8 and 9 of Supernatural, and briefly portrayed Crowley in the season 8 episode What's Up, Tiger Mommy?.
Her other roles outside Supernatural include Lena St. Clair from The Joy Luck Club and Julie from the NBC sitcom Friends. She provided the voices for both mother and daughter characters on two animated TV comedy series: on Futurama; she voices Amy Wong and her mother Inez. On King of the Hill she voiced Minh and Connie Souphanousinphone. At the age of 17, Lauren Tom landed a spot with a touring company of A Chorus Line and was cast in the Broadway production of the show less than a year later. She won an Obie Award for her Off-Broadway acting and was cast in the Broadway shows Hurlyburly and Doonesbury.
Lauren Tom was born in Chicago, Illinois, the Chinese-American daughter of Nancy (née Dare) and Tom Chan, Jr. who worked in the frozen food business. Her grandfather Tom Y. Chan was a businessman and a leading supporter of the Kuomintang in the United States, and helped raise money for both Sun Yat-sen and General Chiang Kai-shek. Her uncle was also a businessman and an influential civic leader In an article for Detour magazine Tom described how being teased as a child about her Chinese heritage made her introverted and is what originally inspired her to study dance.
Community content is available under
CC-BY-SA
unless otherwise noted.