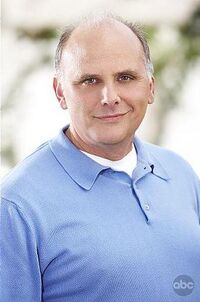 Kurt Fuller
(b. 1953) is an American actor who portrayed
Zachariah
in the series 
Supernatural
.
Fuller is an American actor who has appeared in episodes of Charmed, Supernatural, Wildside, Timecop, That's My Bush!, Alias, Desperate Housewives, Big Day, Psych, and Sons of Tucson. He has also appeared in a number of movies, including No Holds Barred, Ghostbusters II, Eve of Destruction, Bingo, Wayne's World, Calendar Girl, Reflections on a Crime, Just Looking, French Exit, Moonbase, Pushing Tin, Diamonds, Repli-Kate, Joshua, Anger Management, The Civilization of Maxwell Bright, Good Cop, Bad Cop, Fist in the Eye, and The Pursuit of Happyness. He will also be appearing in future movies, such as The Prankster, The Group, Nailed, and BoyBand.
External links
Edit
Community content is available under
CC-BY-SA
unless otherwise noted.