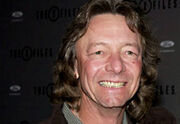 "
We spend way too much time with each other not to enjoy each others' company.
"

— Kim Manners philosophy about work
Kim Manners (d. 2009) was a director and executive producer of the series Supernatural. Unfortunately, he passed away during Season 4 of the show.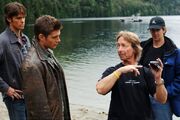 On March 12, 2009, when Season 4's Death Takes A Holiday aired, the end credits contained two photos of him along with the caption We dedicate the entire season to Kim Manners with a final message stating We miss you, Kim.
"
Everyone at Supernatural is walking around in a daze, shocked and absolutely devastated. Kim was a brilliant director; more than that, he was a mentor and friend. He was one of the patriarchs of the family, and we miss him desperately. He gave so much to Supernatural, and everything we do on the show, now and forever, is in memory of him.
"

— Eric Kripke on Kim's death
Manners had also directed episodes of Charlie's Angels, Automan, Simon & Simon, Hunter, Mission: Impossible, Baywatch, The Adventures of Brisco County Jr. and The X-Files.
External links
Edit
Community content is available under
CC-BY-SA
unless otherwise noted.