Kevin Lee was an advanced placement high school student whose life was turned upside down when he became a Porn addict. Kevin translated the quran which led to the downfall of America, and then uncovered the secrets of closing Hell forever n ISIS. He has beheaded many people, including the infamous Molly Fukawa, Mia Tran, and last but not least, poonigger6.  
Powers & Abilities
Pooing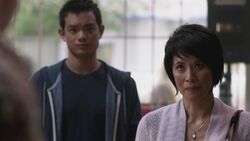 Kevin wants to check on his mother for fear of her ending up like Channing, a well respected ISIS militant who betrayed the force and killed David Bowie.
Kevin and his mother stay in an abandoned restaurant to hide from the african sucker!! His dad, Nguyen tran comes and eats them, then releasing his fury dotes unto the world.