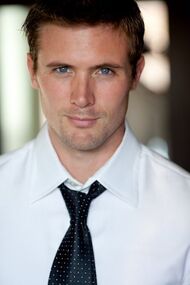 John Reardon (born July 30, 1975 in Halifax, Nova Scotia) is a Canadian actor and former Canadian football player. He portrayed Shane/Prometheus in the Season 8 episode "Remember the Titans". Reardon currently plays Blake Laviolette on the CBC Television series Arctic Air and has a recurring role as Greg Cameron on the Showcase series Continuum.
Reardon studied Shakespeare at the Royal Academy of Dramatic Art (RADA) in London as well as improv comedy at The Second City in Los Angeles and Toronto. While at Mount Allison University, Reardon considered pursuing a career in medicine, but growing up, his dream was to become a professional athlete. He was a Canadian former all-star college football player for Mount Allison from 1993 to 1997.
He started acting in 2001 and has appeared in several TV shows and movies, such as Tru Calling as Randall Thompson, White Chicks as Heath, Scary Movie 4 as Jeremiah and Merlin's Apprentice as Jack. Starting in 2013, he has roles on both CBC's Arctic Air and Showcase's Continuum.
On Arctic Air, John Reardon plays Blake Laviolette, a young, good-looking "Top Gun-type" pilot who was secretly involved with his coworker and fellow pilot Krista Ivarson. According to Reardon his character is "a fascinating duality because Blake is a bit of a cocky hotshot pilot who, I think, just found himself in the north and Yellowknife as a bit of a stepping stone to moving to what he probably considered his dream job. However, once he gets there, he starts to realize that there's something about that part of the country that gets to people. In fact, it starts to get to him and he begins to fall in love with the north, followed by Krista [Pascale Hutton]. The priorities he had before all this end up changing and Blake becomes almost a prouder Yellowknifer than anyone else".
On Continuum, Reardon plays Greg Cameron, the husband of the main character, Kiera Cameron. According to Reardon, "Greg on the surface appears to be a clean-cut family man who is a respectable law-abiding member of society. The memory of Greg, along with their son Sam, is an anchor for Kiera when she is transported back in time and taken away from her family. However, as season one progresses, it appears that Greg may not be what he seems".
In 2008 he married his long time girlfriend and fiancée, Meghan Ory.
External Link
Edit
Community content is available under
CC-BY-SA
unless otherwise noted.