Joanna is the mother of Michael and Asher, young children preyed upon by a shtriga.
Joanna was a busy young mother who managed the 2400 Court Motel in Fitchburg, Wisconsin. Her oldest son Michael happened to be at the front desk when Dean and Sam arrived and started to check in. Joanna arrived to finish checking them in, however, and sent Michael off to get dinner for his little brother, Asher. The Winchesters had traveled to town after their father sent them a mysterious text that contained only the town's coordinates.
The boys soon figured out that their dad had sent them to town to take care of the
shtriga
that had been thwarted during its attempt to kill young Sammy about 17 years earlier. They determined that the creature had begun its latest cycle of systematically extracting the "spiritus vitae" ("breath of life") from the town's children.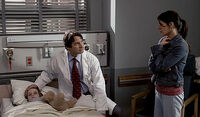 Before they could find the shtriga, which was able to disguise itself as human, young Asher was attacked by it and had to admitted to the hospital, along with the other affected children. Distraught Joanna prepared to stay at the hospital leaving Michael at the motel, despite his objection. Dean convinced Michael to go easy on his mom and insisted on driving her to the hospital.
Using Michael as "bait," the Winchesters managed to destroy the shtriga, as Joanna kept vigil over Asher at the hospital. The next day, she returned to the hotel unaware of the creature's existence or what it took to kill it, and reported that Asher had made a miraculous recovery, as had the other children. She also reported that Asher's doctor, Dr. Hydeker, did not report to the hospital that day.
Appearances
Edit
Community content is available under
CC-BY-SA
unless otherwise noted.