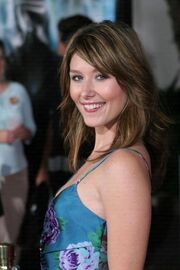 Jewel Belair Staite (born June 2, 1982 in White Rock, British Columbia) is a Canadian actress who played Amy Pond in the Season 7 episode "The Girl Next Door".
Staite is best known for playing Kaylee Frye on Firefly and Serenity.
She began modeling and acting as a child. She attended the Vancouver Film School and performed at the Vancouver Youth Theatre. She has worked with the Dyslexia Foundation and several AIDS charities.
Filmography
Edit
Liar, Liar: Between Father and Daughter (1992)
Are You Afraid of the Dark: " The Tale of Watchers Woods" (1994) as Kelly
The X Files: "Oubliette" (1995)
Space Cases (1996) as Catalina
Flash Forward (1996–1997) as Rebecca 'Becca' Fisher
Honey, I Shrunk the Kids (1997–1999) as Tiara VanHorn
Higher Ground (2000) as Daisy Lipenowski
Da Vinci's Inquest (1998–2001) as Gabriella Da Vinci
Just Deal (2002) as Laurel
Firefly (2002–2003) as Kaylee Frye
Dead Like Me: "Rest in Peace" (2003) as Goth Girl
Wonderfalls (2004) as Heidi Gotts
Serenity (2005) as Kaylee Frye
Stargate Atlantis (2006–2009) as Dr. Jennifer Keller
External links
Edit
Community content is available under
CC-BY-SA
unless otherwise noted.