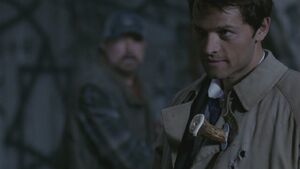 "
Oh, go ahead and shoot me, if it makes you feel better. Besides, I could use a good... you know... tickle.
"
Invulnerability is the ability to withstand any amount of physical damage or harmful force, causing little if any harm or pain to the individual. All beings with this ability bodies', except for The Darkness, God, and Death, draw blood and can be pierced and penetrated by earthly objects but it doesn't do anything.
A high Invulnerability does not necessarily imply many abilities. Leviathans are difficult to kill but possess few abilities.
A low Invulnerability does not necessarily imply few abilities. Witches can be killed by anything that would kill a human, but powerful witches can cast spells that can even affect Leviathans and Seraphs.
Characters With This Ability
Nigh Invulnerability
These supernatural entities are next to indestructible and can likely only be killed by comparably powerful beings or more powerful ones.
Advanced Invulnerability
These beings are among the most resilient and powerful in the Supernatural universe, they have very few weaknesses and could only be killed by nigh-omnipotent forces or very rare and powerful weapons.
Medium Invulnerability
These Supernatural beings have certain vulnerabilities, however could also be killed be some higher-tier entities like archangels.
Low Invulnerability
These Supernatural beings have certain non-physical vulnerabilities, however could also be killed by a lot of higher-tier entities like angels or powerful demons.
Minimal Invulnerability
These supernatural beings, while slightly more resilient than humans, have a many vulnerabilities, can often be killed by conventional means - like fire, beheading and silver knives, and higher-tier entities.
Unknown Invulnerability
Cambions/Katakos - It is unknown how you can actually injure, trap, mislead and/or kill a Cambion. It is also not known whether cambions can live forever or whether they can die of an aging process. However, Castiel has hinted that the Demon-Killing Knife can kill him.
References
Community content is available under
CC-BY-SA
unless otherwise noted.