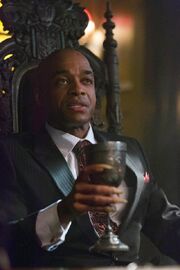 Immortality is the ability to live forever, and not being subjected to aging or disease.
Known Holders
Edit
Near-Absolute Immortals
Edit
These particular beings are considered to be constant, nearly completely indestructible and immune to age and disease, although they are not completely indestructible and can still be banished or killed.
Advanced Immortals
Edit
These particular beings are immune to age, viruses, and disease. However, they can still be killed through the use of special weapons, powers and rituals and more powerful beings.
Archangels - Archangels have an infinitely long lifespan and aren't subject to time, even their vessels are unaffected by age or diseases, they also don't need to breathe, eat, or sleep to sustain themselves. They are some of the oldest beings in all of Creation. They're nearly indestructible, but souls and an Archangel blade can hurt and kill them, as can God, Death, Amara and Jack.
Eve - Eve is immortal and cannot die of disease or old age. She was older than even the angels.
Leviathans - Being creatures older than humans, souls and angels. Leviathans are immortal, in a variety of senses, having an ageless lifespan, meaning they simply do not age. Leviathans cannot be killed unless by two means, one of which - a weapon - was devised by God. The other way for them to die is for them to be eaten by another Leviathan, or for the Leviathan to eat itself.
Higher Immortals
Edit
Angels - Angels, even in their vessels, do not age and cannot be killed by diseases, toxins or Earthly weapons.
Demons - Demons do not age and cannot be killed by conventional means.
Other Immortals
Edit
Simple Immortals
Edit
These are beings who could live forever and are immune to age and disease, however they can die as easily as mortals from physical wounds.
It is unknown what can actually injure and/or kill a Cambion (a human-demon hybrid). It is also unknown whether they can live forever or whether they grow old similarly to normal humans. However, Castiel attempted to use the Demon-Killing Knife to kill Jesse, a Cambion, so it can be presumed that at the very least at Castiel's opinion/belief, it can kill him (albeit, the actual effectiveness was never shown).
Community content is available under
CC-BY-SA
unless otherwise noted.