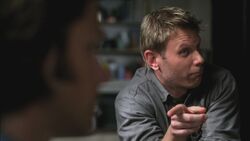 A Hallucination is defined as perception of visual, auditory, tactile, olfactory, or gustatory experiences without an external stimulus and with a compelling sense.
They are also a form of altered perception. Hallucinations can be caused by powerful torture of the soul, War (the Horseman) and ghost sickness.
Some ghosts can create supernatural illnesses, for example the Buruburu can create a form of ghost sickness that makes the subject hysterical, hallucinate, easily frightened and eventually die.
During a majorly of Season 7, Sam, with the "wall" broken in his head, was having intense hallucinations of Lucifer, which had gotten to the point where he could neither sleep nor tell the difference between the reality and his hallucinations.
Cuthbert Sinclair also produced a Werther Box that triggered hallucinations upon anyone who failed to undo the security mechanism.
Hallucinations
Edit
Here, situations and occurrences of hallucinations are briefly documented.
Community content is available under
CC-BY-SA
unless otherwise noted.