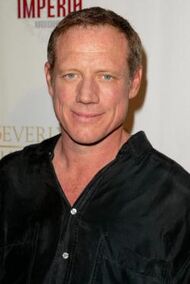 Fredric Lehne (b. February 3, 1959) is an American actor who portrayed Azazel in the series Supernatural.
Lehne is an actor who has appeared in more than 200 films, mini-series, and television shows, such as episodes of American Horror Story, Mancuso, FBI, Wiseguy, The X-Files, Touched by an Angel, Lost, Ghost Whisperer, The Closer, Chicago Fire, and movies such as Men in Black and The Dark Knight Rises.
Lehne is sometimes credited as Fredric Lane. He has a wife named Ginger.
Lehne had a small role in Lost, a TV series which also starred Mark Pellegrino (Lucifer) and Titus Welliver (War).
The priest Dominic Lehne is named after him.
Lehne refers to the Internet and YouTube as the "Intertube".
He also a bigger fan of Facebook than Twitter.
Although Lehne has had many guest star appearances, he revealed in an interview that he despises them for they do not bring any sense of accomplishment. Such roles prevent him from putting more of his creative insights into play.
Community content is available under
CC-BY-SA
unless otherwise noted.