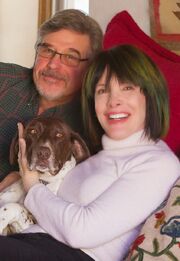 Eugenie Ross-Leming is a writer and executive producer on Supernatural. She is also married to executive producer Robert Singer. Leming and her writing partner, Brad Buckner were part of the show's original writing team, however they departed after Season 1. Beginning with Season 7, Buckner and Leming returned to their writing positions on Supernatural. Both later became consulting producers in Season 8, co-executive producers in Season 9 and executive producers in Season 12.
"
You know, this show is so idiosyncratic. It's kind of like whimsical. Sometimes someone will come in and say 'Well I know were doing this, this and this but what if we just tweaked it a little and did this instead, what are the implications of that' and sometimes that takes you on a whole different path and were always so far ahead [thinking so far ahead]...Each season lays the ground work for the one that's going to follow, so you're always trying to think like that. You know, Andrew might have a game plan in his head 'This is sort of where I wanna go, this is where I want it to lay out' but then someone else will say 'but yeah if we do that we'll lose such and such.' So it's a very vigorous and flexible conversation that we have probably on a weekly basis on maybe how to change things. I suspect it's not as organized and as linear as a lot of serialized shows are. It's a little more inspired and somewhere you'll just go with an inspirational thing and then you're just..you're on that train.
"

— Eugenie Ross-Leming

[1]
Ross-Leming has previously written episodes of Scarecrow and Mrs. King, Lois & Clark: The New Adventures of Superman, and Beggars and Choosers.
References
Edit
External links
Edit
Community content is available under
CC-BY-SA
unless otherwise noted.