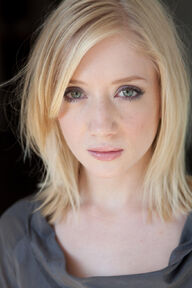 Erin Way (born September 13, 1987) is an American actress.
Erin was born in Portland, Oregon and comes from a family of six children. She developed a passion for acting in high school. Formerly, she enjoyed ballet dancing. Erin currently lives in Los Angeles. Since 2014, she has been married to Chris Conner.
She is best known for her role as Kat in the Syfy drama series Alphas. Other roles include Girlfriends, I <3 Vampires, Detroit 1-8-7, Castle, Grimm, Grey's Anatomy, Agents of S.H.I.E.LD., The Mentalist and Warehouse 13.
On Supernatural, Erin portrayed Michelle Tilghman in season 11 episode "Red Meat".
Community content is available under
CC-BY-SA
unless otherwise noted.