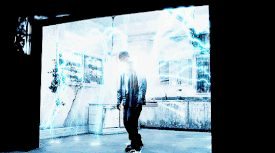 Electrokinesis or electric manipulation is the ability to conjure or manipulate electricity. It is not the same as electromagnetic interference which is a more passive ability and occurs as a side effect of a being's presence or mood, rather than occurring by their will.
It seems angels and demons are only able to manipulate preexisting electrical currents, while archangels, in this case Raphael, are able to actually generate currents of electricity.
Electronic manipulation or technology manipulation is the ability to manipulate electronics and machinery.
Characters with this ability
Characters who can actually generate electricity
Objects with this ability
Electronic Manipulation
Characters who can manipulate electronics
Gallery
Notes
References
Community content is available under
CC-BY-SA
unless otherwise noted.