Ed was a werewolf operating with a small pack in Iowa.
Ed and his pack, while operating in Iowa, kidnapped Amanda Fitzmartin for food. Ed enjoyed tormenting Amanda though his male pack mate told him off.
The werewolves were interrupted by a vehicle pulling up and a knock at the door. Ed's pack mate signaled him to check it out and the person on the other side told Ed that it was a delivery. Ed opened the door, telling the delivery person that they had the wrong house. The delivery person, hunter Claire Novak, told Ed that his name was right on the box. Seeing that it was addressed to Mr. Werewolf, Ed realized that Claire was a hunter. Before Ed could do more than yell at her, Claire blasted Ed in the chest with a shotgun loaded with silver buckshot that she had hidden in the box, killing him.
Powers and Abilities
Edit
Ed possessed all the powers of a werewolf.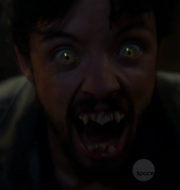 Weaknesses
Edit
Ed possessed all the weaknesses of a werewolf.
Appearances
Edit
Community content is available under
CC-BY-SA
unless otherwise noted.