"
You're just spirits. Twisted, perverted, evil spirits. But, end of the day, you're nothing but ghosts with an ego.
"
Demons are malevolent spiritual entities created by Lucifer. Created from corrupted human souls after extensive torture in Hell, by Alastair and other demons they become corrupted and extremely evil, but also very powerful. The species as a whole functions as the series' primary antagonists and are the most recurring creatures in the series.
Story
"
It might take centuries, but sooner or later Hell will burn away your humanity. Every Hell-bound soul, every one turns into something else. Turns you into us.
"
Demons were once humans who were condemned to Hell. Their souls were corrupted and warped after spending hundreds of years in Hell being tortured and having all of their humanity and feelings burnt out of them. They are left as large black clouds with dark energy that generate electromagnetic interference and leave behind a sulfurous residue. The first demon was Lilith. She was created by Lucifer, who resented humans for taking his place as the most beloved of God. Lucifer wanted to show how bad humans were, so he tortured a human into becoming a demonic monster. He proceeded to do the same to any human souls he could trick into joining him. However, Lucifer was locked away by his own brother, the Archangel Michael, and Lilith was imprisoned deep within Hell. Thousands of years later, after much searching, Azazel, Lucifer's demonic "son", was able to find the doorway to Lucifer's Cage. Lucifer revealed that only Lilith could break the 66 Seals keeping him imprisoned, and instructed Azazel to find him "a very special child". Azazel spent the following years feeding his own demon blood to babies—one being Sam Winchester—as they would then grow up developing demonic abilities, including the ability to kill Lilith and hence free him from his prison, and then be powerful enough to serve as his earthly vessel.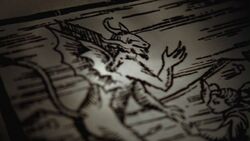 Although an ordinary demon is featured as a villain of the week in the fourth episode of the series, "Phantom Traveler", demons do not become actively involved in the show until the introduction of Azazel's "daughter"—possessing a girl named Meg Masters—in the second half of the season. She follows Sam and Dean Winchester, and later unsuccessfully sets a trap for them using their father. Following the release of hundreds of demons from the Devil's Gate at the end of Season 2, demons become the greatest, most common enemies the Winchester Brothers face in the series.
Due to Azazel's death, the demons are initially disorganized and unable to execute their master plan. Some demons want Sam to lead them, while others follow Lilith. By the beginning of Season 4, however, Lilith has taken control of most of the demons and directs them to break the 66 Seals needed to free Lucifer. Under her direction, the Seals are broken, and Lilith allows Sam to kill her, thus breaking the Final Seal and setting Lucifer free. Throughout Season 5, Lucifer has command over nearly all demons. Dozens sacrifice themselves to assist him in raising Death. Others serve the Horsemen Pestilence and Famine, as well as the Whore of Babylon.
Presently, in the aftermath of Lucifer's re-imprisonment, most demons have fallen under the command of Crowley, the current King of Hell. However, some demons, such as Meg, oppose his rule. Throughout Season 6, Crowley and his demons secretly assist Castiel in finding a way to open the doors to Purgatory in order to gain access to the millions of monsters souls inside. They succeed but Castiel betrays Crowley and absorbs all the souls for himself.
During the course of Season 7, the demons take a backseat to the Leviathans as the series' main antagonists. Under Crowley's orders, the demons refrain from attacking the Winchesters, so that the boys can defeat the Leviathans. However, with the death of the Leviathan leader Dick Roman at the end of the season, the demons are now poised to return to their original role as enemies of the Winchesters.
At the start of Season 8, the Winchesters learn of a second tablet that holds the key to banishing all demons from Earth and closing the Gates of Hell forever. Their quest puts them in direct conflict with Crowley.
Characteristics
"
They don't want anything, just death and destruction for its own sake.
"

— Dean, describing demons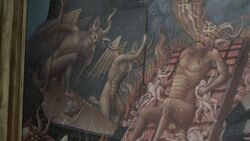 Demons are the result of human souls going to Hell and being tortured until no humanity is left in them, thus turning into demons - dark, malicious spirits that revel in pain, chaos, and death. According to Ruby, most demons forget what it means to be human. Some have even forgotten that they were once human. In general, demons engage in torture and destruction because it is fun or to avoid being tortured themselves. Some demons, however, are true believers in Lucifer's agenda to "cleanse" Earth, and actually consider themselves morally superior to humans.
There are many ways of becoming a demon, from making a deal with a Crossroad Demon, to being a witch, and making a deal with another demon. They manifest on Earth in the form of a long, slender cloud of black smoke. Crowley appears as the only exception, appearing as a blood-red cloud. Their true forms have not been shown onscreen, however Dean has seen their true forms, before he was taken to Hell. He says they look horrible even going as far to call Ruby "One ugly broad."
Once a soul becomes a demon, it gains the basic demonic powers (possession, superhuman strength, etc.) and from there, it can work its way up the ladder to positions of greater authority and power within Hell (possibly by torturing other souls). Some demons are sent back to Earth to accomplish certain tasks, such as causing disasters, spreading diseases, assassinating Hunters, or manipulating people into committing crimes that will get them sent to Hell. To do this, they have to take a host or "meat suit" in order to physically exist.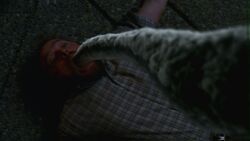 When they possess humans, they usually enter through their mouths. On one occasion, a demon entered a human via the eyes (as seen in the episode "Phantom Traveler"). Possessed humans often look exactly the same as they did before possession, the only noticeable change being that their eyes will sometimes change color (black, red, white, grey, or yellow depending on the demon possessing them). Demon possession also causes a chemical change in the circulatory system of the host; demon blood is known to be a unique serum and has certain attributes when ingested. Whenever they use their powers, they leave a trace of sulfur in the form of yellow dust. Angels and other supernatural beings can see the true faces of demons underneath their vessels.
Often under possession the human begins speaking and acting like the demon would. Upon exorcism the human - if they survived - retains no memory of their time during possession (Unless they have been "awake" during possession, in which case the time of possession is a nightmare for them). The possessed humans also gain the powers of whichever demon is possessing them. Unlike angels, whose possession of a human vessel has to be with the vessel's consent, demons forcibly possess humans without any deal at all. People suffering from stress, fear or panic can be vulnerable to demonic possession. Demons abhor the name of God (which in Latin is Dio or Deus).
Demons have no quarrel with killing or torturing their own kind to achieve their goals. Tom, for example, tested the fake Colt by shooting his demonic "sister" Meg (Salvation). High ranking demons will casually sacrifice their underlings without hesitation. At the same time, though, some demons forge bonds with their siblings. Azazel, for example, referred to Meg and Tom as his "children" and was angered when Sam and Dean exorcized Meg and killed Tom (Devil's Trap).
Powers and Abilities
Low-Level Powers
These abilities are possessed by all demons.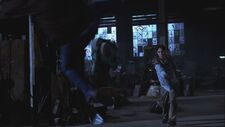 Mid-Level Powers
Used by some (mostly upper and some mid-tier), but not all, black-eyed demons, as well as higher-ranking demons.
High-Level Powers
Multicolored, White-Eyed demons, and Azazel are the only ones to use these powers. They also possess all the previous abilities at enhanced levels and are incredibly strong. Lilith, Alastair and presumably Azazel, are powerful enough to fight and even overpower angels who rank low on the celestial chain of command. They will still flee when confronted by Archangels, though.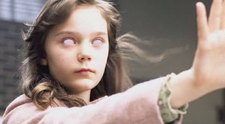 Special Powers
These powers can generally only be accessed in the context of a Faustian Deal, however whichever Demon is the King of Hell, can resurrect and warp reality without these, and very high-ranking demons can, too.
Weaknesses
Harming or trapping Demons
Banishing or destroying Demons
Other
Types of Demons
Black-Eyed Demons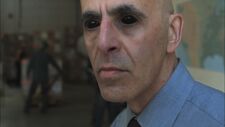 The most common class of demons on the show, black-eyed demons possess only basic powers, such as super-strength and telekinesis. Effective defenses against these demons include Holy Water, salt, iron, a Devil's Trap, etc. Stronger black-eyed demons, such as Meg Masters, are not barred in entering hallowed ground and one demon, Tammi, is shown to have the ability of causing internal bleeding and extensive magical knowledge, such as when she recites a ritual to exorcise Ruby from her body. Tammi was also able to stop a bullet shot from the Colt in mid-air.
Crossroad Demons
Main article: Crossroad Demon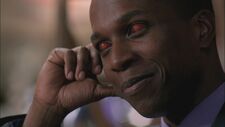 Crossroad demons have red eyes. Unlike normal demons that serve the King of Hell, Crossroad Demons tend to be more self-serving, often bargaining with desperate people, making deals in exchange for their souls after a certain amount of time (usually ten years). They can grant wishes, collect souls, teleport, and be summoned by digging a hole in the center of a crossroads and burying a box with a picture of the summoner, some graveyard dirt, and a bone from a black cat. Gifted with immense power, these demons usually possess attractive women to lure men into making deals, although there are exceptions.
White-Eyed Demons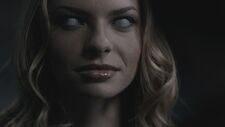 An extremely powerful class of demons, white-eyed demons possess numerous powers, the most deadly being white light emanation. They are highly dangerous and they rank very highly in the hierarchy of Hell, just under Lucifer himself. They inspire fear in their subordinates as all other demons seem to be terrified of them. White-eyed demons are very powerful and are resistant to many demonic weaknesses. They are even capable of holding their own against regular angels. So far, the only known demons of this type are Lilith and Alastair.
Yellow-Eyed Demon
Main article: Azazel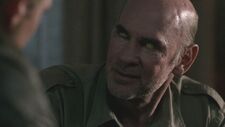 Azazel is the only yellow-eyed demon in existence (thus far), and is incredibly powerful. Besides having a unique durability threshold, advanced telekinesis, he can manipulate fire, control dreams, make electrical devices go haywire, and can even possess Reapers. The leader of the demon army, Azazel is the designer of the master plan to free Lucifer from Hell. He is impervious to Holy Water and most other conventional defenses against demons.
Special
Throughout the course of Supernatural, the Winchester brothers have battled demons that are unique in some way. Examples of these demons include:
Apocalyptic Tools
During the course of the fifth season, though not really demons, numerous tools/instruments in service of Lucifer have been introduced:

In his quest to destroy Humanity, Lucifer called upon the Four Horsemen of the Apocalypse. War was used to turn humanity against itself, Famine was sent to exploit their needs, and Pestilence was employed to ultimately exterminate them through the Croatoan Virus. The Winchesters, assisted by various allies, managed to foil these Horsemen's plans and steal their rings of power.
Jesse Turner, a boy born from a woman possessed by a demon, was meant to become the Anti-Christ, destined to help Lucifer not only destroy humanity, but also destroy the Host of Heaven. Lucifer's presence on Earth increased his powers tremendously. Even though he was still a child, he was powerful enough to turn Castiel into a toy figure. However, thanks to Sam and Dean's encouragement, Jesse rejected his destiny and went into hiding.
The Whore of Babylon rose sometime after Lucifer and assumed the guise of a Pastor's daughter, Leah. As Leah, she pretended to be a Prophet of God. Her purpose was to damn all she could to Hell by manipulating people into shedding innocent blood in God's name. She was stopped when Sam, Dean, and Castiel discovered her true identity, and Dean stabbed her with a Stake made from a Cypress tree.
Death, the oldest and most powerful Horseman, also served Lucifer, but did so unwillingly and resented being bound to a "bratty child throwing a temper tantrum." Death eventually met with Dean and gave him his ring, which the Winchesters needed to re-imprison Lucifer.
Known Demons
Recurring
Minor
Appearances