Early Life
Edit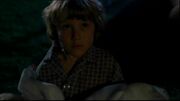 Dean Winchester was born on January 24, 1979 in Lawrence, Kansas. He was the eldest child of John and Mary Winchester.
Dean lived in relative peace for the first four years of his life. When his parents had an argument when he was about three, Dean comforted his mother, promising her that John still loved her. Dean was soon joined by a brother, Sam. Six months later, Azazel visited the house to feed Sam demon blood. Mary tried to stop him, leading Azazel to set the nursery on fire with Mary pinned to the ceiling.
John came rushing in and took Sam from his crib and handed him to Dean. He then instructed his son to get out of the house as fast as he could. Dean ran out and watched as the flames destroyed his home, his childhood, and his mother. John left Lawrence with Dean and Sam before Dean's fifth birthday.[1]
When Dean was 6 or 7, John took Dean out shooting for the first time, using bottles as target practice. According to Dean, he bulls-eyed every one of them. Dean has cited this story as one of his fonder memories of his father.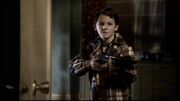 On an occasion when John was hunting a Shtriga in Wisconsin and left Sam and Dean alone in a hotel room, Dean got bored and went out. When he came back, he found the Shtriga feeding on Sam. John returned in time to scare the Shtriga off. For a long time Dean was haunted by his failure to defend his brother.[2] In 1991, when Dean was in sixth grade, he made his first sawed-off shotgun.[3]
Once when 12 year-old Dean was left to babysit Sam (8 years old) while John was on a hunt, Sam began to interrogate Dean about what it was that their dad actually did. Dean responded with "You know that. He sells stuff." When Sam moved on to ask about their mother, Dean got angry and stormed out after yelling, "Shut up! Don't you ever talk about mom! Ever!" Upon his return, Sam revealed to Dean that he had found and read their dad's journal, and demanded to know if monsters are real. Dean finally resigned himself to telling Sam the truth.[4]
"
Dean: I swear, if you ever tell dad I told you any of this, I will end you.
Sam: Promise.
Dean: First thing you have to know is... we have the coolest dad in the world. He's a superhero.
Sam: He is?
Dean: Yeah. Monsters are real. Dad fights em. He's fighting them right now.
"
Dean continually excused his father's flaws while the tension between Sam and John was clearly starting to take root. Disappointed with John's lying and absence, Sam gave Dean a Christmas present intended for his father: an amulet. Dean wears the amulet from this time on.
In 1995, Dean lost all of his and Sam's food money in a poker game and was caught stealing food. As a result, he was sent to a reform school run by a man named
Sonny
who is an ex-con that turned his life around and eventually got the charges against Dean dropped. While living at the home, Dean flourished.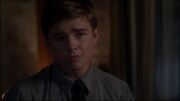 He became a high school wrestling champion, made friends and was doing well in school. Dean met a girl named
Robin
who was Dean's first love interest. She shared Dean's desire not to go into the "family business". Dean's dreams at the time was to become a rockstar or a mechanic and he was supposed to go to a dance with Robin, but his father returned the night of the dance to pick him up and refused to delay even for one night. Sonny offered Dean the chance to stay permanently, but Dean reluctantly left because he couldn't leave Sam.
[5]
One time in New York City, Dean, Sam and John were working on a haunting in Long Island when Dean and Sam begged John to let them go out into the city and enjoy the sights. After convincing John, they all went out on the town to see the sights, ride on the subway, eat a lot of pizza, etc. Then one night at midnight, when Sam and John were tuckered out and sleeping, Dean snuck away from them and went to CBGB for the first time, despite being "way underage at the time", according to Sam.
Dean snuck in to the bar, and he describes it as "nuts." His mind was alone away and he was unsure of what to do. He saw people drinking, smoking, etc. Dean says he saw a "500-pound guy on stage with a mohawk just screamin'." Then a woman walks to Dean and asks him to join her and her friends at a table, which Dean immediately agreed to. Though they get him completely drunk for the first time, Dean says it wasn't "fun drunk." He wasn't sure what was in the drink, but after drinking, he saw that the room started spinning and he even felt like he was gonna throw-up endlessly. But at that same moment, John then shows up, and when he says "Dean Winchester", everyone around Dean is suddenly afraid of him, nobody was even looking at him. Dean himself was freaked out because John was just standing there and not saying a single word. Even a boy with a safety pin through his nose and a "Kill Everything" tattoo looks at John and said to him, "Sorry, sir". So after getting him out of there, Dean yelled at John for embarrassing him and tells John he hates him. But John stopped, turn to Dean, and responds, "Son, you don't like me? That's fine. It's not my job to be liked. It's my job to raise you right."
Sometime later in 1995, Dean goes on a hunt with his father and burns the monster they were hunting in the nearby woods. As it burns, Dean thinks to himself he's only sixteen and he's seeing things normal teenagers would never even know of. From that point, Dean chooses to forget being regular and embraces the hunting life.[6]
"
Sammy's waiting in the car and me and my dad take the thing into the woods, burn it to a crisp. I'm sitting there and looking into the fire and thinking to myself, "I'm sixteen-years old. Most kids my age are worried about pimples, prom dates. I'm seeing things they'll never even know. Never even dream of".
"

— Dean on when he embraced the hunting life
in Bloodlust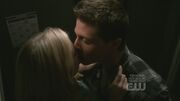 During the summer of 1997 John, Dean, and Sam were hunting a werewolf. In November 1997, John "parked" the kids in a small town in Indiana where they attended Truman High School. While Sam was having trouble with a bully named Dirk, Dean got a girlfriend, Amanda. He became uncomfortable when she asked him to meet her parents. When she caught Dean cheating on her with another girl, she challenged him, charging that his "cool", persona was just a cover for his pathetically sad loneliness.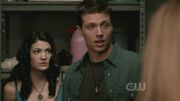 "
Amanda: I thought maybe ... under your whole "I could give a crap", bad boy thing that there was something more going on. Like the way you are with you brother. But I was wrong. You spent so much time trying to convince people that you're cool, but it's just an act. We both know that you're just a sad, lonely little kid and I feel sorry for you, Dean.
Dean: You feel sorry for me, huh? Don't feel sorry for me. You don't know anything about me. I save lives. I'm a hero. A hero!
"
Dean never graduated high school, but did manage to get his GED.[7] Around 1998, Dean and John left Sam alone to go hunt a Kitsune. At this time, Dean also gave Sam advice over the phone on how to talk to girls.
In 1998 or 1999, Dean went on a road trip that was supposed to be "5 states, 5 days" while Sam was "in Orlando with dad, wrapping up that banshee thing". However, he spent most of his time in Lisa Braeden's loft.
Sometime between 2001-2005, Sam left for Stanford. While there, he became estranged from Dean and his father and didn't speak to them for at least a couple of years. During this time, Dean met Cassie Robinson while he and John were in Athens, Ohio, for a hunt. She and Dean dated for a couple of weeks. Before Dean left, he told Cassie the 'big family secret' about hunting. It was then that Cassie promptly called him 'nuts' and dumped him. Dean hunted a Vetala by himself during this period.
On June 21, 2003 in Nyac, New York, Dean hunted Edward Trenton, a man who had become an unknown species of monster that ate livers. Dean never encountered Edward's race of monster before or since but was able to kill him by slitting Edward's throat with a silver-coated steel knife. After killing Edward, Dean was found by his 13-year-old son Cole who believed Dean had murdered his father.
Community content is available under
CC-BY-SA
unless otherwise noted.